GBSS chief executive honoured by Royal College
Group B Strep Support (GBSS) chief executive Jane Plumb's involvement in group B Strep prevention came after the loss of her second child, Theo, to group B Strep infection in 1996. She co-founded GBSS with her husband, Robert, and has tirelessly turned her own personal tragedy into a campaign to stop babies' developing group B Strep infection.
Honorary fellowships are the highest awards from the Royal College of Obstetricians and Gynaecologists (RCOG) and are given following a rigorous screening exercise to those who demonstrate the highest level of support for the development of women's healthcare services. Jane was awarded her honour at the RCOG headquarters in London on Friday 15 October 2021 by the RCOG President, Dr Edward Morris.
Jane says: "I'm delighted and quite overwhelmed to have been given this rare honorary fellowship by the College. It recognises all the hard work that I and so many others have done to improve awareness and prevention of group B Strep infection in babies in the UK."
Dr Edward Morris says: "Jane's ongoing dedication to preventing group B Strep infection has informed many College activities, including the production of clinical and patient guidelines, which has increased understanding within maternity staff and the public. She is a leading voice, and this award recognises her expertise, her guidance and the resulting improvements that her work has led to within women's health."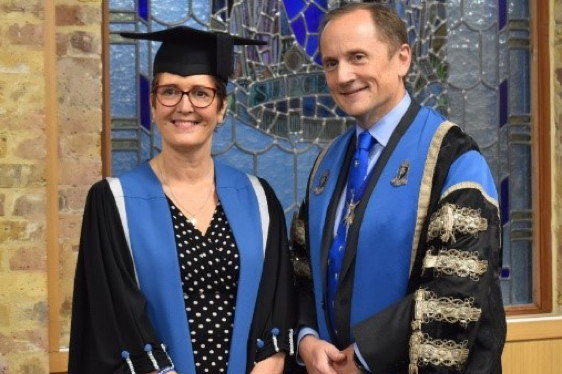 Jane Plumb was awarded with an honorary fellowship by RCOG President Dr Edward Morris.