Volume 15/Issue 2, March 2019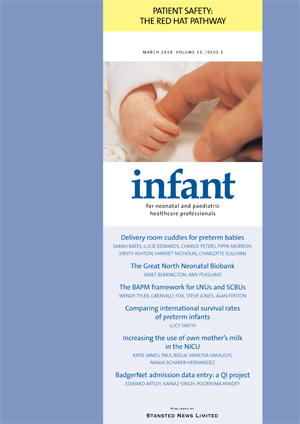 The articles in this issue are available to online subscribers as Adobe Acrobat PDF files and as an online page-viewer edition. Please visit our online store to buy a subscription. If you already have a subscription then please log in.
To buy a printed back copy of this issue, please call Tricia Rotheram on (01279) 714516.
---
Editorial
Each Baby Counts: the 2018 progress report
BAPM's latest framework for practice: Q&A
---
Article
Delivery room cuddles for preterm babies: should we be doing more?
Quality improvement in the NICU: increasing the use of own mother's milk
The red hat pathway: reducing avoidable NNU admissions for hypoglycaemia
Comparing international survival rates of extremely preterm infants: the impact of variation in reporting signs of life
The Great North Neonatal Biobank: using salvaged samples to facilitate novel translational research in preterm infants
BadgerNet admission data entry: a quality improvement project
---
Regulars
News