Volume 15/Issue 1, January 2019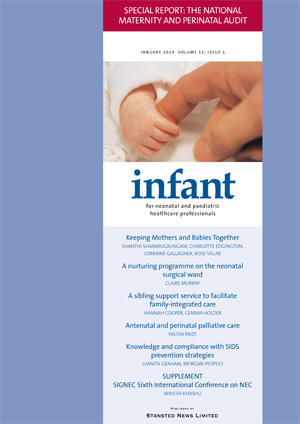 The articles in this issue are available to online subscribers as Adobe Acrobat PDF files and as an online page-viewer edition. Please visit our online store to buy a subscription. If you already have a subscription then please log in.
To buy a printed back copy of this issue, please call Tricia Rotheram on (01279) 714516.
---
Editorial
Failed diagnosis of GBS in newborns costs the NHS millions in negligence claims
Bliss funds research to understand pain in premature babies
Letter to the Editor. Dummies for infants on neonatal units and the impossibility of adequate decontamination
Expert Commentary. Dummies and non-nutritive sucking for preterm infants in neonatal care.
---
A nurturing programme on the neonatal surgical ward
---
Article
Keeping Mothers and Babies Together: implementing a single, simplified pathway for at-risk infants
Noah's Star: a volunteer sibling support service to facilitate family-integrated care
---
Special report
The NMPA – evaluating care processes and outcomes to identify good practice and areas for improvement
---
Article
Nursing student knowledge and compliance with SIDS prevention strategies
Multidisciplinary antenatal and perinatal palliative care
---
Supplement
SIGNEC Sixth International Conference on Necrotising Enterocolitis - Free download PDF
---
Regulars
News