Volume 14/Issue 6, November 2018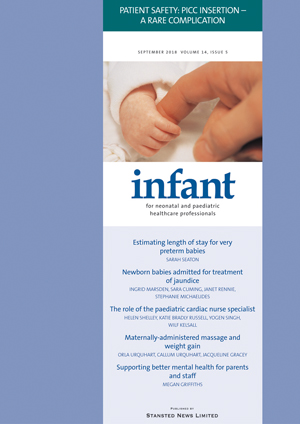 The articles in this issue are available to online subscribers as Adobe Acrobat PDF files and as an online page-viewer edition. Please visit our online store to buy a subscription. If you already have a subscription then please log in.
To buy a printed back copy of this issue, please call Tricia Rotheram on (01279) 714516.
---
Editorial
Cutting tongue ties may not help infants to breastfeed
Using national audit data and recommendations to drive local quality improvement initiatives
UK initiative launched to improve support for fathers on neonatal units
---
Article
Surfactant therapy – past, present and future
Champagne and bloody taps: can we improve the success rate of neonatal lumbar punctures?
MBRRACE-UK Perinatal Mortality Surveillance Report: UK perinatal deaths for births in 2016
Umbilical catheters: safety issues and update to the current BAPM framework for care
A two-year comparative study of admissions of term neonates for hypoglycaemia: what have the BAPM recommendations changed?