Volume 14/Issue 4, July 2018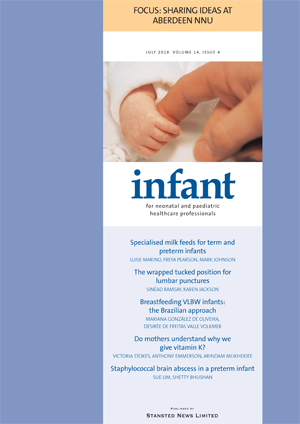 The articles in this issue are available to online subscribers as Adobe Acrobat PDF files and as an online page-viewer edition. Please visit our online store to buy a subscription. If you already have a subscription then please log in.
To buy a printed back copy of this issue, please call Tricia Rotheram on (01279) 714516.
---
Editorial
Fathers in the NICU: what type of support do they want?
Group B Strep: its impact on families and how best to support them
---
Article
Improving practice using the wrapped tucked position for lumbar punctures
Specialised milk feeds for term and preterm infants
A staphylococcal cerebral abscess in a preterm infant
Breastfeeding very low birthweight infants in Brazil: a successful experience
About Neonatal Care: Bliss' latest information booklet to support and empower parents
Do mothers understand the reasons for giving vitamin K to their newborn babies?
Creating a nurturing environment at Aberdeen: sharing ideas 'across the pond'