Volume 14/Issue 2, March 2018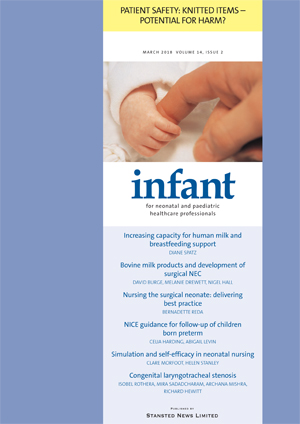 The articles in this issue are available to online subscribers as Adobe Acrobat PDF files and as an online page-viewer edition. Please visit our online store to buy a subscription. If you already have a subscription then please log in.
To buy a printed back copy of this issue, please call Tricia Rotheram on (01279) 714516.
---
Editorial
BAPM's Neonatal Service Quality Indicators – what are they and how should they be used?
---
Review article
Increasing capacity for the provision of evidence-based human milk and breastfeeding support
---
Article
The temporal relationship between exposure to bovine milk products and surgical NEC in preterm infants
NICE guidance for developmental follow-up of children born preterm
Knitted items – potential for harm to babies?
Nursing the surgical neonate part 2: how can we deliver best practice now and in the future?
Simulation-based education for neonatal skills training and its impact on self-efficacy in post-registration nurses
Management considerations in congenital laryngotracheal stenosis
---
Regulars
News