Fabian HFO compact lightweight ventilator
Consistent and comfortable tidal volumes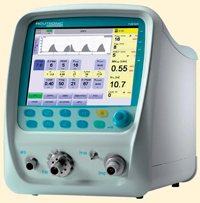 The Fabian HFO from Acutronic combines 20 years of experience in neonatal ventilation with the latest technology.
High frequency oscillation with volume guarantee delivers consistent and comfortable tidal volumes to patients weighing up to 10kg. Fabian HFO works with the patient and the clinical setting to achieve an ideal balance of comfort and control.
Retaining all the standard modes of neonatal ventilation, it also offers nCPAP and bi-level nCPAP in conjunction with single use products such as Inspire nCPAP.
Fabian HFO is a compact, lightweight ventilator with an easy to use, colour touch screen display making it ideal for use in the neonatal unit. A 2.5 hour battery makes it suitable for transport.