Welcome to Infant's monthly email bulletin, in which we report the current news about neonatal units, developments in neonatal care, innovative products and latest research for healthcare professionals caring for premature babies and sick infants up to one year old.
You can view this news bulletin in your web browser.
Why not send your unit, research, event, product or company news for our next issue, to Katherine Robinson.
November 22, 2018




MBRRACE-UK releases Saving Lives, Improving Mothers' Care

The fifth annual MBRRACE-UK report of Saving Lives, Improving Mothers' Care was published on 1st November 2018. The number of women dying as a consequence of complications during or after pregnancy remains low in the UK – fewer than 10 of every 100,000 pregnant women die in pregnancy or around childbirth. However, there are striking inequalities: black women are five times and Asian women two times more likely to die as a result of complications in pregnancy than white women and urgent research and action to understand these disparities is needed.

Full story

The Transport category in our Supplier Guide is sponsored by ParAid




November 22, 2018

Transitional care units help mums and babies to stay together at Hampshire Hospitals NHS Foundation Trust.

New transitional care units have been opened at both Basingstoke and North Hampshire Hospital and Royal Hampshire County Hospital in Winchester, allowing mothers to stay with their babies while they receive the extra care they require.

Janice Mackenzie, associate director of maternity and women's health at Hampshire Hospitals NHS Foundation Trust, which runs hospitals in Andover, Basingstoke and Winchester, says: "In the past, babies who need a little bit of help after being born have been treated in our neonatal units, but this means separating them from their mums at the end of each day.

Full story

The Nutrition category in our Supplier Guide is sponsored by Baxter Healthcare Ltd




November 22, 2018

Rainbow Clinic offers support for families during pregnancy after the loss of a baby

When parents suffer the heartbreak of baby loss it is important that they receive care and support not only over this very difficult time, but also during future pregnancies.

To ensure families receive this additional support a new clinic has been set up at the Royal Berkshire Hospital. The Rainbow Clinic offers specialist antenatal care to women in pregnancy following the loss of a baby due to late miscarriage, stillbirth or early neonatal death.

Full story

Looking for new suppliers? Categories in our Supplier Guide are: Circulation, Diagnostics, Equipment, Incubation, Monitoring, Nutrition, Respiration, Services, Supplies, Therapy and Transport

November 22, 2018

Inspiration Healthcare offers ClampCut device

The ClampCut is a sterile, disposable obstetric instrument that clamps and cuts the umbilical cord while securing the severed ends. This all-in-one device combines the many instruments needed, saving time during the cutting of the cord.

ClampCut is now available from Inspiration Healthcare in the UK and Ireland.

Full story

November 22, 2018

Government announces leave allowance for bereaved parents

Employees who have suffered the death of a child will benefit from significant paid leave allowance under proposed new laws published on 13 October.

While the Government expects employers to be compassionate and flexible at such a difficult time, there is currently no legal requirement for employers to provide paid time off for grieving parents.

Full story

November 22, 2018

Bliss launches mental health information and podcast

Bliss has launched new online information to support parents' mental health, as well as its podcast - NICU, SCBU and you. In the first episode Bliss speaks to parents about their experiences on the unit and how it affected their mental health, as well as a health professional who supports parents on the unit.

To support healthcare professionals to start conversations around mental health, the charity has also launched an information card designed to be included in welcome packs for parents.

Full story

November 22, 2018

National report rates Musgrove Park's maternity and neonatal care above national average

According to a report by the Royal College of Paediatrics and Child Health into neonatal care, Musgrove Park Hospital performs better than the national average.

The report says seven in ten premature babies discharged from the hospital's neonatal unit are breastfed, compared with six in ten nationally. In order to achieve this, neonatal staff work closely with Musgrove's specialist infant feeding team to teach and support mums to breastfeed.

Full story

November 22, 2018




Barnsley Hospital unveils £2.8m neonatal unit

Barnsley Hospital has officially opened its new, refurbished neonatal unit, which has been relocated and redeveloped and now offers a bright, welcoming and spacious environment purpose-built for families and their babies.

The unit has 14 cots in total: two intensive care, three high dependency and nine special care.

Full story

November 22, 2018

Report reveals improvement of local investigations into baby deaths and brain injuries occurring during childbirth

The latest report from the Royal College of Obstetricians and Gynaecologists Each Baby Counts clinical initiative shows there was an increase in the number of completed local investigations into stillbirths, neonatal deaths and severe brain injuries that occurred from incidents during term labour in 2016 across the UK, when compared to 2015.

In 2016, 89% of completed local investigation reports contained sufficient information for review, which is necessary to drive clinical improvements to reduce the number of deaths and injuries.

Full story

November 22, 2018

Rhyl lights up purple for World Prematurity Day

Staff from Glan Clwyd Hospital's neonatal unit teamed up with Denbighshire County Council to illuminate Rhyl landmarks for World Prematurity Day on 17 November.

The town's Sky Tower and Pont y Ddraig Harbour Bridge were both bathed in purple light to raise awareness of the impact premature birth can have on families.

Full story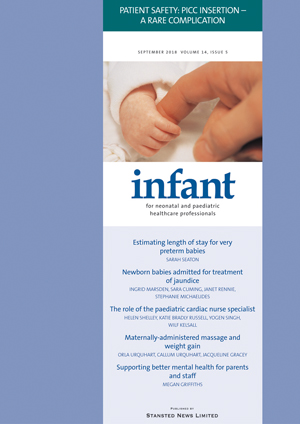 Articles in the November 2018 issue, available now, include:
Surfactant therapy – past, present and future
Cutting tongue ties may not help infants to breastfeed
Term admissions for hypoglycaemia: what have the BAPM recommendations changed?
Can we improve the success rate of neonatal lumbar punctures?
The National Neonatal Audit Programme report
MBRRACE-UK Perinatal Mortality Surveillance Report
Subscriptions
start at just £35 per year!
Topics planned for the January 2019 issue include:
Antenatal and perinatal palliative care
A nurturing programme on the neonatal surgical ward
Keeping mothers and babies together: implementing a single, simplified pathway for at-risk infants
An analysis of umbilical long-line extravasation injuries
BadgerNet admission data entry: a QI project