Welcome to Infant's monthly email bulletin, in which we report the current news about neonatal units, developments in neonatal care, innovative products and latest research for healthcare professionals caring for premature babies and sick infants up to one year old.
You can view this news bulletin in your web browser.
Why not send your unit, research, event, product or company news for our next issue, to Katherine Robinson.
February 7, 2018




UK neonatal units called on to help in BB-Box trials

French company SAS RDI is looking for UK neonatal units to try out its BB-Box neonatal camera system. The company is looking to work with three hospitals in the UK for a free test of the BB-Box solution over two months in the first phase.

Designed to soften the early disruption between parents and newborns due to separation, the camera system allows parents to interact with their newborn through secure live images, fully controlled by the NICU service. Parents can be engaged directly while watching through the conference mode of the camera.

Full story

The Transport category in our Supplier Guide is sponsored by ParAid




February 6, 2018

Neonatal doctor is 100,000th professional trained by bereavement charity

Dr Georgia Ekitzidou, Associate Specialist in Neonatal Medicine at The Homerton Hospital, Newham, has become the 100,000th professional trained by Child Bereavement UK.

The milestone was marked at the charity's Annual Neonatal Palliative and End of Life Care Conference where Georgia received a certificate from Child Bereavement UK's Founder Patron, Julia Samuel MBE.

Full story

Looking for new suppliers? Categories in our Supplier Guide are: Circulation, Diagnostics, Equipment, Incubation, Monitoring, Nutrition, Respiration, Services, Supplies, Therapy and Transport

February 6, 2018




Aspect Imaging receives CE Mark for dedicated neonatal MRI system

Aspect Imaging has received CE marking for its neonatal-dedicated MRI system, which enables preparation and scanning of newborns without having to transport them from the NICU.

Aspect Imaging developed the Embrace Neonatal MRI System to be placed inside the NICU to reduce the time and risks involved with transporting infants to an external facility in which traditional MRI scanners are typically situated.

Full story

February 6, 2018




BAPM releases Neonatal Service Quality Indicators

The British Association of Perinatal Medicine (BAPM) has announced the release of the Neonatal Service Quality Indicators endorsed by Bliss.

These indicators define the features of a high quality neonatal service. Also, as Service Quality Indicators, they relate to the structure and delivery of services and as such are different from Clinical Quality Indicators, which relate to the quality of care of individual patients.

Full story

February 1, 2018

Lincolnshire services achieve baby friendly accreditation

Health services for pregnant women and new mothers across north and north east Lincolnshire have been awarded the prestigious baby friendly accreditation from Unicef.

The maternity and neonatal services at Northern Lincolnshire and Goole NHS Foundation Trust have received stage three accreditation. Trust staff were commended for the very high standards of care pregnant women and new mothers receive, for taking every opportunity to initiate a discussion around feeding and for the "effective support" given to breastfeeding mothers.

Full story

February 1, 2018




RCPCH implements due diligence process to work with FMCs

In a consultation in 2016 with the Royal College of Peadiatric and Child Health membership, the overwhelming majority of respondents said that it should accept funding from commercial organisations including formula milk companies (FMCs) and allow them to advertise specialist products subject to a robust set of safeguards set out in a due diligence policy.

Over the last year the RCPCH has communicated its due diligence processes to major FMCs and, to date, Danone has met the criteria. The relationship will continue on the understanding that an open and transparent way of working will be maintained, including keeping activities and policies under review.

Full story

February 1, 2018




RCPCH appoints CEO and elects new president

CEO Professor Judith Ellis MBE is to retire on 31 May, 2018 after nearly four successful years at the Royal College of Paediatrics and Child Health. Judith will be succeeded by Jo Revill, who will join the RCPCH on 1 June.

Jo has had an extensive career working for the Evening Standard and the Observer newspapers as both health and political correspondent and then as adviser to Alan Johnson when he was health secretary and home secretary. She subsequently worked as strategic communications director at the Royal College of Surgeons before joining the British Society for Immunology. She is the author of two books on allergies and bird flu.

Full story

February 1, 2018

Snack bar initiative helps refresh NICU parents in need

Young mother Debbie Thwaites has set up a free snack bar in the NICU at Ashford and St Peter's Hospitals NHS Foundation Trust after giving birth to her daughter Charlotte at 33 weeks gestation in 2014, and son Oscar at 26 weeks' in 2015 at the hospital.

Debbie said: "While I was at the NICU I noticed a need for refreshment for parents as premature babies arrive so unexpectedly. My local church in Guildford supported me with food hampers while I was at the unit, and we decided to provide snacks to other parents in the same situation."

Full story

January 30, 2018

WHO guideline aims to protect, promote and support breastfeeding

A World Health Organization guideline provides global, evidence-informed recommendations on protection, promotion and support of optimal breastfeeding in facilities providing maternity and newborn services, as a public health intervention.

The document presents the key recommendations, a summary of the supporting evidence and a description of the considerations that contributed to the deliberations and consensus decision-making.

Full story

January 30, 2018

£10,000 donation helps fund specialist equipment for Bath NICU

Premature babies being cared for in the NICU at Bath's Royal United Hospital are to benefit from a pioneering new piece of equipment thanks to fundraising by family and friends of a Westbury couple.

Tania and Andy Covington-Cross lost their daughter Mabel when she was born at 22 weeks in December 2016.

Full story

January 30, 2018

CuddleCot donation will help bereaved parents to grieve

Bereaved parents at Sands support groups across the north west of England have joined forces to provide funds to buy a CuddleCot for the Bridgewater Community Healthcare NHS Foundation Trust.

The Sands support groups donated £1,570 between them to buy the CuddleCot that will allow bereaved parents to spend more precious time with their baby.

Full story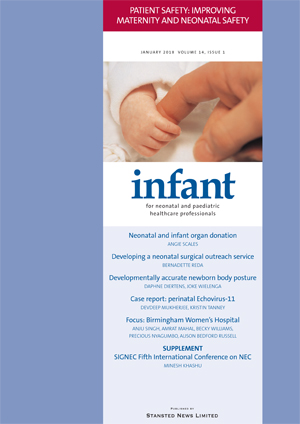 Articles in the January 2018 issue, available now, include:
SIGNEC UK Fifth International Conference on Necrotising Enterocolitis
Neonatal and infant organ donation
Developmentally accurate newborn body posture
A neonatal surgical outreach service
Neonatal occupational therapy guidelines
Improving the recognition, diagnosis and management of bacterial meningitis
Case report: perinatal Echovirus-11
Improving team engagement: a stand-up solution
Subscriptions
start at just £35 per year!
Topics planned for the March 2018 issue include:
Increasing capacity for human milk and breastfeeding support
Congenital laryngotracheal stenosis
Simulation and self-efficacy in neonatal nursing
Exposure to bovine milk products and development of surgical NEC
Blood warming devices for neonatal exchange transfusion
Life after the NICU
Nursing the surgical neonate: delivering best practice
Neonatal transitional care
Cather dead space and drug delivery