Welcome to Infant's monthly email bulletin, in which we report the current news about neonatal units, developments in neonatal care, innovative products and latest research for healthcare professionals caring for premature babies and sick infants up to one year old.
You can view this news bulletin in your web browser.
Why not send your unit, research, event, product or company news for our next issue, to Katherine Robinson.
December 21, 2018

Child Bereavement UK hosts bereavement support conference

A sell-out conference organised by Child Bereavement UK and supported by Slater and Gordon was attended by 250 professionals from a range of disciplines, from teachers and nurses through to faith leaders and social workers. Delegates from across the UK went to Manchester on 15 November to attend the conference focusing on diversity and inclusion in bereavement support.

The conference was opened by Julia Samuel, Founder Patron of Child Bereavement UK and author of Grief Works. Julia commented that, although many people are profoundly uncomfortable around issues of diversity and difference, grief and bereavement are universal experiences. She encouraged delegates to take time to bridge the gap of difference by listening to bereaved people and asking them what they need.

Full story

The Nutrition category in our Supplier Guide is sponsored by Baxter Healthcare Ltd




December 21, 2018

Countess of Chester Hospital baby unit plans approved

Plans to build a new neonatal unit at a hospital in Chester have been approved following a second application.

The plans were originally blocked when Cheshire West and Chester Council refused to pass the application because it felt it was "overbearing" and would lead to a "loss of outlook" for residents of a nearby estate.

Full story

Looking for new suppliers? Categories in our Supplier Guide are: Circulation, Diagnostics, Equipment, Incubation, Monitoring, Nutrition, Respiration, Services, Supplies, Therapy and Transport

December 21, 2018

Best Beginnings celebrates Baby Buddy's fourth birthday with new website and crisis messenger

Best Beginnings' Baby Buddy app launched in November 2014 and it has celebrated its fourth birthday with the launch of a new-look website.

The charity has also launched Baby Buddy Crisis Messenger, which is available in the Baby Buddy app and accessible on the website, powered by Crisis Text Line and Shout.

Full story

December 21, 2018

Brighter Futures gives its incubator appeal a 'big push' ahead of Christmas

Brighter Futures, the charitable fund board for Great Western Hospital, Swindon, has raised over £15,000 in seven days in a push to hit the target for its Incubator Appeal in time for Christmas. The match-funding Big Give Christmas Challenge matched all donations made by 4 December, doubling the amount of cash given.

The appeal had already reached £147,000 of its £175,000 target and it is hoped that the total will be reached by Christmas. Funds will be used to buy five Draeger Babyleo neonatal incubators.

Full story

December 21, 2018

The Sun launches a Christmas appeal to raise money for Bliss

The Sun newspaper's Light Up Christmas appeal launched on Saturday, 24 November with stories about Charlotte, Rosie, Ruby, Aria, Nylah and Grayson; six babies who spent their first-ever Christmas on the neonatal unit.

Funds raised in this Christmas appeal will help Bliss achieve its ambition of reaching every baby born premature or sick and their families with its information and support services.

Full story

December 21, 2018

Pupils make donations to Ninewells hospital

With the desire to give back and spread some joy, the pupils of SS Peter and Paul Primary School visited the NICU and the paediatrics department at Ninewells Hospital, Dundee, on 28 November, loaded down with gifts.

Ava Jowett, Caitlin McKeith and Kyhran Gray visited the two wards with their deputy head teacher Laura McKenzie to hand over gifts. The three pupils are members of Rota Kids, Rotary's organisation for children.

Full story

December 21, 2018

Mersey's song in memory of stillborn sister raises funds for Sands

Mersey Moore, age 13, from Weymouth in Dorset, has co-written and recorded a song in memory of her sister Ferrie who was stillborn in 2003.

It was Mersey's idea to produce a song for her sister and she wrote the lyrics and music, with help from David Payne who was her teacher at her previous school.

Full story

December 21, 2018

NHS staff praise maternity programme

A pioneering programme to reduce the number of stillbirths, neonatal admissions and deaths resulting from multiple pregnancies is being praised by midwives, obstetricians and sonographers at maternity units across England.

The Maternity Engagement Programme, run by national charity Tamba (the Twins and Multiple Births Association), ensures mums expecting twins, triplets or more, are treated in line with NICE multiple pregnancy guidelines, as it is proven this can save lives.

Full story

December 21, 2018

Bliss and Sands urge NHS to improve neonatal bereavement care

Charities Bliss and Sands are calling for consistent, well-funded bereavement care across the whole of the UK after a report published by the charities found that NHS bereavement care for parents whose baby dies shortly after they are born is worryingly inconsistent and under-resourced.

The joint Audit of Bereavement Care Provision in UK Neonatal Units (2018) reveals that most services lack sufficient specialist staffing input and appropriate facilities to support grieving families. It finds that despite instances of good practice by individual nurses and doctors across the country, many services are not set up to deliver consistent high quality bereavement care and health professionals are not getting the training and support they need to perform this vital role.

Full story

December 21, 2018

EFCNI launch newborn health standards

The European Standards of Care for Newborn Health were launched at an event in the European Parliament on 28 November. They provide practical recommendations for the care provided for preterm and ill babies and they have been published in an editorial by The Lancet Child & Adolescent Health.

Addressing various aspects of care from the time of birth until school age, the standards are the first of their kind and give practical guidance for optimal medical care of preterm and ill babies.

Full story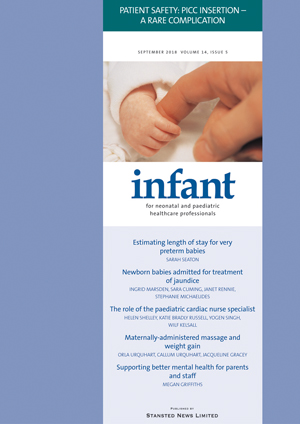 Articles in the November 2018 issue, available now, include:
Surfactant therapy – past, present and future
Cutting tongue ties may not help infants to breastfeed
Term admissions for hypoglycaemia: what have the BAPM recommendations changed?
Can we improve the success rate of neonatal lumbar punctures?
The National Neonatal Audit Programme report
MBRRACE-UK Perinatal Mortality Surveillance Report
Subscriptions
start at just £35 per year!
Topics planned for the January 2019 issue include:
SIGNEC sixth international conference
Knowledge of and compliance with SIDS prevention strategies
Antenatal and perinatal palliative care
A nurturing programme on the neonatal surgical ward
Keeping mothers and babies together: a simplified pathway for at-risk infants
Special report: the NMPA
A sibling support service to facilitate family-integrated care