Welcome to Infant's monthly email bulletin, in which we report the current news about neonatal units, developments in neonatal care, innovative products and latest research for healthcare professionals caring for premature babies and sick infants up to one year old.
You can view this news bulletin in your web browser.
Why not send your unit, research, event, product or company news for our next issue, to Katherine Robinson.
March 27, 2019

Partnership aims to save lives by supporting parents and health professionals to reduce the risk of SIDS

This Safer Sleep week on 11-17 March, The Lullaby Trust, Public Health England, Unicef UK Baby Friendly Initiative and Basis (Baby Sleep Info Source, Durham University) collaborated to create a range of resources for parents and health professionals.

The resources provide information and guidance for parents on reducing the risk of sudden infant death syndrome (SIDS), and support health professionals to have effective conversations about safer sleep. Families will be given the new information and resources by health professionals, supported by all four organisations.

Full story

The Equipment category in our Supplier Guide is sponsored by Lisclare




March 26, 2019

NHS strategy aims to tackle key barriers to paediatric and neonatal organ donation

Children in need of a transplant are waiting longer and dying before they can receive an organ because the number of young organ donors remains static.

NHS Blood and Transplant's (NHSBT) first paediatric and neonatal organ donation strategy aims to make more lifesaving transplants possible, especially for young patients who often need organs matched to their size.

Full story

Looking for new suppliers? Categories in our Supplier Guide are: Circulation, Diagnostics, Equipment, Incubation, Monitoring, Nutrition, Respiration, Services, Supplies, Therapy and Transport

March 26, 2019

Neonatal nurse from Manchester awarded Churchill Fellowship

Roxy Afzal, a neonatal intensive care nurse from Manchester University NHS Foundation Trust, has been awarded a Churchill Fellowship to travel to Canada and the USA. Roxy intends to explore best practice in neonatal organ donation so that she can develop practices to support UK health professionals to confidently and competently offer the option of organ donation to families of end-of-life babies. Roxy's Fellowship is supported by The Burdett Trust for Nursing.

Roxy says: "Caring for neonatal patients is a privilege, but also challenging, as I support families through very difficult times. Particularly during traumatic times, I believe it's important to offer choices to families. Neonatal organ donation is possible but rarely carried out – it may be a sensitive and challenging process but could potentially bring some comfort to grieving parents and save the lives of transplant recipients."

Full story

March 26, 2019

Sands-funded research identifies women at risk of stillbirth

A team of researchers has shown that a simple blood test to measure bile acids in the blood can provide information about the risk of stillbirth for pregnant women with a common pregnancy-specific liver disorder called intrahepatic cholestasis of pregnancy or ICP.

This recent discovery builds on Sands-funded research by the same team, based at King's College London and Guy's and St Thomas' Foundation Trust.

Full story

March 26, 2019

NHS England publishes updated Saving Babies Lives Care Bundle

NHS England has published a new version of the Saving Babies Lives Care Bundle as part of its ongoing drive to reduce the rates of stillbirths, neonatal deaths, maternal death and brain injuries.

Version two of the Care Bundle has been produced to build on the achievements of version one and address the issues identified in its evaluation. It aims to provide detailed information for providers and commissioners of maternity care on how to reduce perinatal mortality across England. It brings together five elements of care that are widely recognised as evidence-based and/or best practice.

Full story

March 26, 2019

Charity-curated art inspires hope and wellbeing for special families

An artist with a flair for bringing storytelling to life has been busy creating marvellous murals on the SCBU at Rotherham Hospital.

Rotherham-based artist Lucy Strutt was chosen by colleagues at The Rotherham NHS Foundation Trust to enhance the SCBU's welcoming and homely atmosphere with her nature and magical-themed designs. Lucy is now half-way through the project which has seen the bare walls transformed with jungle animals, sea life creatures, arctic bears and sea lions plus a giant hot air balloon piloted by a bunny.

Full story

March 26, 2019

Local family raises £20,000 in a year for Royal Bolton neonatal unit

Staff on the neonatal unit at Royal Bolton Hospital have received a generous donation as part of a year-long fundraising drive by a local family.

Jackie Lawrence and Kieron Fairhurst's baby son George was cared for on the unit in January 2018, when he was unexpectedly born three months prematurely. Sadly, George died on 12 January when he was nine days old.

Full story

March 26, 2019

Reclining chairs help with kangaroo cuddles at Airedale

Parents and their newborn babies on the neonatal unit at Airedale General Hospital in West Yorkshire are enjoying three new reclining chairs to help them get optimum skin-to-skin contact, thanks to a generous donation from the Friends of Airedale charity. The chairs have been proven to help promote kangaroo care and help parents feel as comfortable and confident as possible when holding their little ones.

Rachel Asher from Earby has been using the chairs while on the unit with her baby Riley, who was born at 26 weeks weighing 1.1kg and is now 10 weeks old and weighs 2.7kg.

Full story

March 26, 2019

Lister's Big Build appeal closes in on fundraising target

Lister Hospital's neonatal Big Build appeal has raised £300,000 so far thanks to the generosity of the local community, with only £38,000 left to raise.

The appeal was launched by the East and North Herts Hospitals' Charity and the Lister Neonatal Unit Families Group in August last year, with the aim of raising enough money for a new neonatal family room at the hospital.

Full story

March 25, 2019

Parliament publishes report on first 1,000 days of life

The cross-party Health and Social Care Committee published its report 'The First 1,000 Days of Life' on 26 February.

In it, the committee describes widespread variation in provision of services and a lack of information sharing between healthcare agencies.

Full story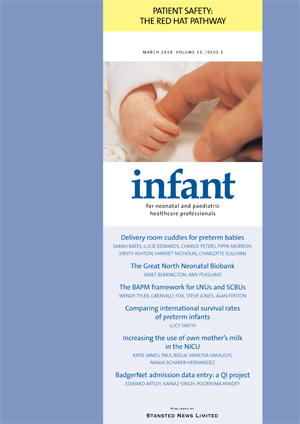 Articles in the March 2019 issue, available now, include:
Delivery room cuddles for preterm babies
Increasing the use of own mother's milk in the NICU
Each Baby Counts: progress report
Comparing international survival rates of preterm infants
Red hat pathway for reducing avoidable admissions for hypoglycaemia
The Great North Neonatal Biobank: a resource to facilitate translational research
BadgerNet admission data entry: a QI project
The BAPM framework for optimal arrangements for LNUs and SCBUs
Subscriptions
start at just £35 per year!
Topics planned for the May 2019 issue include:
Optimising the delivery of parenteral nutrition in newborn care
Phototherapy at home for the treatment of neonatal jaundice
Airway management in the NICU
Cleft palate and oral synechiae in a newborn: a case report
Home oxygen for infants leaving neonatal units
Who looks after neonates with intestinal failure?