Welcome to Infant's monthly email bulletin, in which we report the current news about neonatal units, developments in neonatal care, innovative products and latest research for healthcare professionals caring for premature babies and sick infants up to one year old.
You can view this news bulletin in your web browser.
Why not send your unit, research, event, product or company news for our next issue, to Katherine Robinson.
January 31, 2020

Delta Medical developmental care range expanded

Delta Medical International has secured distribution of the Benjamin Care range of products, which have been specifically designed to support developmental care practice.

The products in the Benjamin Care range were conceived and designed by a neonatal intensive care nurse. The products can be applied through different stages in the neonatal care process, from supporting skin-to-skin contact through to helping with positioning, thermoregulation and other developmental care practices.

Full story

Looking for new suppliers? Categories in our Supplier Guide are: Circulation, Diagnostics, Equipment, Incubation, Monitoring, Nutrition, Respiration, Services, Supplies, Therapy and Transport

January 31, 2020

Premature baby gorilla bottle fed by keeper

Central Medical Supplies, sole UK distributor of Dr Brown's range of bottles, has shared details of an unusual patient.

Yaounde, a Western Lowland Gorilla, was born prematurely in June last year and was abandoned by her mother at birth. Having tried various feeding methods, staff at Howlett's Wild Animal Park in Kent discovered that the Dr Brown's bottles were the only bottles Yaounde took to. The vacuum-free bottle design is ideal for feeding premature babies, as the babies don't have to fight against the growing vacuum that builds up in a traditional bottle. This, coupled with the narrow teat and slow flow, made the Dr Brown's bottle ideal for Yaounde.

Full story

January 31, 2020

Twins Trust project continues to see positive results after two years

New data has shown that the Twins Trust Maternity Engagement Quality Improvement Project continues to see positive results after two years. The project is aimed at improving care for families of twins, triplets or more and the recent data has highlighted a 23% reduction in neonatal admissions, an 18% reduction in neonatal deaths, 7% reduction in stillbirths and 6% reduction in emergency C-sections.

As part of the project, Twins Trust specialist midwives experienced in delivering and looking after mothers pregnant with twins, triplets or more, visited maternity units to carry out an audit. Following this, they made suggestions and demonstrated how care and procedures can be improved in line with multiple birth clinical guidance issued by NICE.

Full story

January 31, 2020

Contributions to BAPM's response to Signs of Life Consultation welcome

The MBRRACE-UK Signs of Life working group has launched a consultation relating to the development of UK guidance to support health professionals in the assessment of signs of life for spontaneous births before 24(+0) weeks of gestational age where active survival-focused care is not appropriate.

BAPM will be responding to the consultation and asks that BAPM members share their responses with the BAPM office by 21 February as well as submitting an individual response. BAPM will then use members' comments to submit a formal response on behalf of the association.

Full story

January 31, 2020

MPs David Linden and Gavin Newlands raise £1,200 for Bliss Scotland

David Linden MP and Gavin Newlands MP have presented Bliss Scotland with a cheque for £1,200, having raised the money by doing the 24-mile 'Mighty Stride' Kiltwalk around Edinburgh last September. Both MPs have experience of having children born prematurely and needing neonatal care after they were born.

David Linden, MP for Glasgow East and Chair of the All Party Parliamentary Group on Premature and Sick Babies, says: "Gavin and I have enormous respect for the work that Bliss Scotland do, so we were delighted to walk 24 miles around Edinburgh to raise some money for a cause so close to our hearts. We would like to thank everyone who supported us and encouraged us along the way."

Full story

January 31, 2020

St Peter's Hospital neonatal unit receives Bliss Baby Charter Accreditation

St Peter's Hospital in Chertsey, Surrey, has become the sixth hospital in England to receive a prestigious award for its neonatal unit from the UK's leading premature and sick baby charity Bliss. St Peter's received the highest score of any neonatal unit to be assessed by Bliss for the award.

The assessment found that St Peter's excelled at providing support for families through a multi disciplinary team that includes a family support coordinator, chaplain, breastfeeding lead, safeguarding lead and interpreter. The unit's spacious, well-equipped accommodation also enables parents to stay close to their baby. Bliss highlighted the supportive staff culture, which includes Good News Fridays as a way of maintaining high morale.

Full story

January 31, 2020

Super-fit fundraisers do pull ups for pounds in aid of Hampshire neonatal unit

The families of babies being treated on the neonatal unit at Royal Hampshire County Hospital will enjoy improved facilities thanks to the efforts of a group of super-fit fundraisers.

Members of Dawn Breakers Winchester, an early morning fitness class based at The Westgate School, raised £10,000 by completing an exhausting 12 hours of high intensity interval training.

Full story

January 31, 2020

Twin babies benefit from a generous donation towards a special cot

Twin babies who need extra care when they are born will be able to stay together in the neonatal unit at Basingstoke and North Hampshire Hospital thanks to the efforts of a group of fundraisers.

June Bond decided she wanted to help other parents with twins after her granddaughter Jemma Lewis gave birth to identical twin boys, Jacob and Joey. The twins arrived 11 weeks early and both needed extra care, with Jacob transferred to Queen Alexandra Hospital in Portsmouth for specialist treatment, while Joey stayed in Basingstoke.

Full story

January 31, 2020

Family and fundraisers open bereavement room in Billy's memory

More than £55,000 has been raised to help open a special room at The James Cook University Hospital in memory of baby Billy Daniel Jones.

Billy's Room Infinity Suite gives bereaved parents a calm and comfortable place to stay while they spend precious time with their child.

Full story

January 31, 2020

Special arrivals will help Bradford sonographers spot cardiac defects before birth

A Bradford hospital has welcomed two special arrivals at its maternity unit.

Two Tiny Tickers 'situs' teaching dolls were donated by Head of Midwifery at Bradford Royal Infirmary Sara Hollins and her mum Linda Atkins.

Full story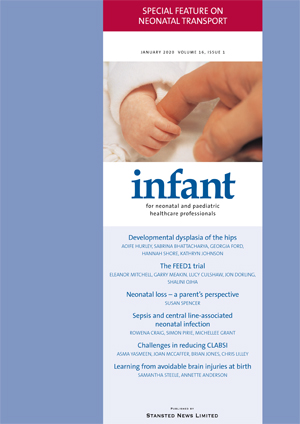 Articles in the January 2020 issue, available now, include:
Feature: neonatal transport
Developmental dysplasia of the hips
The Feed1 trial
Challenges in reducing CLABSI
Neonatal loss – a parent's perspective
Sepsis and central-line associated neonatal infection
Organ donation saves lives
Learning from avoidable brain injuries at birth
Improving bereavement care
Guidelines for managing babies who are accidently dropped in hospital
Subscriptions
start at just £35 per year!
Topics planned for the March 2020 issue include:
A short-term home nasogastric programme
Administering the hospital anxiety and depression scale
Non-pharmacological strategies for infant pain
Behavioural cues-based infant massage programme
Effective teamworking to improve patient safety
Relieving paternal stress in the NICU
Neonatal respiration: medical equipment and products