Welcome to Infant's monthly email bulletin, in which we report the current news about neonatal units, developments in neonatal care, innovative products and latest research for healthcare professionals caring for premature babies and sick infants up to one year old.
You can view this news bulletin in your web browser.
Why not send your unit, research, event, product or company news for our next issue, to Katherine Robinson.
July 31, 2019

National Maternity and Perinatal Audit outlines changes since 2017.

The latest National Maternity and Perinatal Audit report has been published which provides a snapshot of NHS maternity and neonatal services in England, Scotland and Wales.

The report is led by the Royal College of Obstetricians and Gynaecologists, in collaboration with the Royal College of Midwives, the Royal College of Child Health and Paediatrics and the London School of Hygiene & Tropical Medicine and maps services, staffing and facilities across all hospital trusts and health boards as of January 2019.

Full story

The Equipment category in our Supplier Guide is sponsored by Lisclare




July 31, 2019

Sands launches updated support book to help bereaved families

Sands' bereavement support booklets have been updated and refreshed into a new Sands Bereavement Support Book. The publication is primarily written for bereaved parents and families and covers many different subjects to help through the difficult days, weeks and months after the death of a baby.

It includes supportive information around giving birth, spending precious time as a family and making memories, information to help with funeral planning and making difficult decisions about having a post mortem, as well as working through grief and finding a "new normal" in the months ahead.

Full story

Looking for new suppliers? Categories in our Supplier Guide are: Circulation, Diagnostics, Equipment, Incubation, Monitoring, Nutrition, Respiration, Services, Supplies, Therapy and Transport

July 31, 2019




Tommy's launches a new mental health digital tool for pregnancy and post birth

National charity Tommy's has launched a digital version of the NICE-approved Pregnancy and Post-birth Wellbeing Plan. Created in partnership with the Institute of Health Visitors, the National Childbirth Trust, Netmums, NHS England, Public Health England and the Royal College of Midwives, the digital tool is called Your baby's mum: A wellbeing plan for pregnancy and post-birth and the video can be viewed on YouTube.

The resource and accompanying campaign is designed to help all pregnant women to think and talk about their mental wellbeing in the pregnancy and post-birth period, and to plan early for support and self-care after the birth. The tool is suitable and available for all pregnant women and can be completed at any point in pregnancy.

Full story

July 31, 2019

Singleton Hospital gains full Baby Friendly accreditation

A hospital unit for premature babies needing the highest level of care has become the first in Wales to win global recognition after almost doubling breastfeeding rates.

Seventy-six per cent of babies discharged from Singleton Hospital's NICU are now receiving breast milk thanks to the support of staff. The rate was just 40% four years ago. It has led to the unit becoming the only level three NICU in Wales to gain full Baby Friendly accreditation from UNICEF and the World Health Organization.

Full story

July 31, 2019

Parents urged to reach out and seek help during Twins, Triplets and More week

Twins, Triplets and More week was on 1-7 July and charity Tamba used the occasion to raise awareness of its free listening service, Twinline, which is open five days a week to families of multiples.

Callers will speak to a mum of twins or triplets, who has been trained and, most importantly, will understand and empathise with what they may be going through. Volunteer listeners offer reassurance, support and a listening ear and are able to signpost callers towards further help if needed.

Full story

July 31, 2019

Brothers cycle 21 miles for King's Lynn NICU

Two brothers peddled their way to raising over £1,000 for The Queen Elizabeth Hospital King's Lynn's NICU.

Lincoln (9), and Swaley Douglas (7) wanted to thank the QEH for looking after their little brother Chase (3), who spent the first few weeks of his life in intensive care.

Full story

July 31, 2019

Parents of premature babies organise walk for Surrey hospital charity

Catherine and Russell Wait, parents of two children born premature, organised a 5K fancy dress walk with friends and family in aid of Royal Surrey County Hospital Charity's Closer to Care campaign, after their children spent a total of 10 weeks in the hospital's SCBU.

The money raised from the walk will go towards the charity's £500,000 appeal to redevelop the hospital's current SCBU. Once complete, parents with premature or sick babies will have the option to stay overnight next to their babies' cot.

Full story

July 31, 2019

End of Treatment bell signals babies' roads to recovery

Wrexham Maelor Hospital has been gifted a bell to help signal the end of patient treatment, which has taken pride of place on the SCBU.

Baby Theo Shaw, together with his parents Amanda and Stephen, was the first patient to ring the new bell. He was born 12 weeks early and spent more than two months in intensive care.

Full story

July 31, 2019




PM calls for greater equality in parental leave

Ex Prime Minister Theresa May launched a consultation calling for views on changes to parental leave entitlements to ensure they better reflect our modern society and the desire to share childcare more equally.

It sets out how the Government is looking to introduce a new Neonatal Leave and Pay entitlement for parents of premature and sick babies who need to spend a prolonged period in neonatal care following birth.

Full story

July 31, 2019

Choir raises funds for Southend Hospital's neonatal unit

Southend Hospital's neonatal unit has received a donation of £1,400 from local choir Vocal Ease. The money was raised as part of the choir's tenth anniversary celebrations.

Vocal Ease was formed by Lesley Flemming whose grandson was born with a rare genetic condition and was treated at the neonatal unit seven years ago.

Full story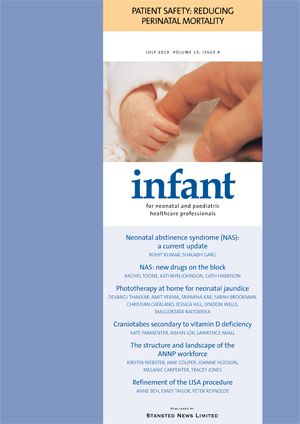 Articles in the July 2019 issue, available now, include:
Phototherapy at home for the treatment of neonatal jaundice
Refinement of the LISA procedure
An update on neonatal abstinence syndrome (NAS)
NAS: 'New drugs on the block'
A care bundle to reduce perinatal mortality
Case report: craniotabes secondary to vitamin D deficiency
The structure and landscape of the ANNP workforce: a UK-wide survey
Subscriptions
start at just £35 per year!
Topics planned for the September 2019 issue include:
Enteral tube feeding in infants
Breast milk fortification and growth
An analysis of umbilical long-line extravasation injuries
Complications of ventriculo-peritoneal shunt placement
Hypoplastic left heart syndrome
The effects of prematurity on child development
Case report: a giant congenital melanocytic naevus
Enhancing trainee endotracheal intubation skills on the NICU
Swaddling the newborn infant