Welcome to Infant's monthly email bulletin, in which we report the current news about neonatal units, developments in neonatal care, innovative products and latest research for healthcare professionals caring for premature babies and sick infants up to one year old.
You can view this news bulletin in your web browser.
Why not send your unit, research, event, product or company news for our next issue, to Katherine Robinson.
January 25, 2019

The Sun Christmas Appeal raises £105,000 for Bliss

A Christmas Appeal in partnership with The Sun newspaper raised £105,005 for Bliss, the charity for babies born premature or sick.

The appeal aimed to raise awareness by sharing stories of babies who had spent their first Christmas on the neonatal unit and the funds raised will be used by Bliss to support infants in neonatal care.

Full story

The Nutrition category in our Supplier Guide is sponsored by Baxter Healthcare Ltd




January 25, 2019

Leighton neonatal unit receives charitable donation

A team from Nantwich-based Boughey Distribution presented a cheque for £6,000 to the Mid Cheshire Hospitals charity recently in support of the neonatal unit at Leighton Hospital.

Staff arranged various fundraising activities throughout 2018 including more than 70 employees taking part in the Cholmondely Castle Tough Mudder in September.

Full story

The Equipment category in our Supplier Guide is sponsored by Lisclare




January 25, 2019

Furness General Hospital opens new parents room on SCBU

A new room that allows parents to stay at Furness General Hospital (FGH) was officially opened on Monday, 14 January thanks to fundraising by the Simpson family from Arrad Foot, near Ulverston.

The family raised more than £9,000 for Bay Hospitals Charity, the official charity of the trust that runs FGH, through holding a number of fundraising events including a barn dance on their farm, a charity auction and a dance in a village hall.

Full story

Looking for new suppliers? Categories in our Supplier Guide are: Circulation, Diagnostics, Equipment, Incubation, Monitoring, Nutrition, Respiration, Services, Supplies, Therapy and Transport

January 25, 2019

Royal Devon and Exeter Hospital receives Bliss Baby Charter accreditation

On 15 January, Royal Devon and Exeter Hospital became the first hospital in south west England to receive Baby Charter accreditation for its neonatal unit from the premature and sick baby charity Bliss.

At a ceremony held on the unit, Bliss Baby Charter Project Lead Chelsie Letts presented staff with a plaque and certificate marking their achievement.

Full story

January 25, 2019

Inspiration Healthcare offers Mercury Medical facemasks

Inspiration Healthcare, UK and Irish distributor for Mercury Medical, has launched a range of anatomically shaped, clear, single patient use facemasks designed specifically for premature and extremely premature infants.

There are two versions of the mask available; ultra-preemie for infants less than 1,000g and the preemie version for babies less than 1,500g. Traditional facemasks used during stabilisation and resuscitation are round and not anatomically shaped. The Mercury Medical versions are soft silicone and shaped to help obtain a better seal, potentially reducing leaks around the infants' mouth and nose.

Full story

January 25, 2019

Brighter Futures announces the successful completion of its incubator appeal

Brighter Futures, Great Western Hospitals NHS Foundation Trust's charity, has successfully closed its Incubator Appeal thanks to the generosity of the local community and a final pledge from the Swindon Islamic Community.

Brighter Futures launched the appeal in March 2018 and by Christmas had achieved its target to raise £175,000 to purchase five Dräger Babyleo neonatal incubators for the SCBU.

Full story

January 25, 2019

Government announces major redesign of neonatal services

Mothers and new babies will be offered better support as part of plans designed to make the NHS one of the best places in the world to give birth.

The measures aim to improve safety, quality and continuity of care to halve stillbirths, maternal and infant deaths and serious brain injuries in newborn babies by 2025.

Full story

January 25, 2019

ONS publishes birth characteristics statistics

The Office for National Statistics (ONS) has published its annual statistical bulletin Birth characteristics in England and Wales: 2017.

Figures show that the stillbirth rate was at a record low, although the rate varies across England and Wales and was significantly higher in the most deprived areas of England compared with the least deprived areas.

Full story

January 25, 2019

Bliss to change services to better meet parents' needs

Bliss will be closing the telephone part of its helpline at the end of January while the charity works with parents to evolve the service into something that better meets their needs.

Bliss recently conducted research that indicated that changes were required to the way it offers support to the parents of premature and sick babies in order to reach them at their time of need.

Full story

January 25, 2019

NHS Fife takes delivery of preterm baby simulator

The neonatal team at the Victoria Hospital in Kirkcaldy have become the first in the UK to take delivery of a newly-developed advanced preterm baby simulator.

Staff at the neonatal unit raised around £60,000 to fund the purchase of a highly realistic preterm baby simulator to support staff to maintain the skills necessary to provide high quality care. The money was raised though a series of fundraising activities alongside a contribution of around £40,000 from the health board's endowment funds.

Full story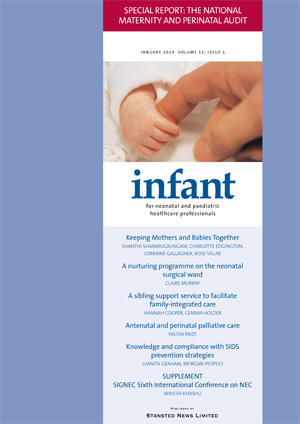 Articles in the January 2019 issue, available now, include:
SIGNEC sixth international conference
Knowledge of and compliance with SIDS prevention strategies
Antenatal and perinatal palliative care
A nurturing programme on the neonatal surgical ward
Keeping mothers and babies together: a simplified pathway for at-risk infants
Special report: the NMPA
A sibling support service to facilitate family-integrated care
Subscriptions
start at just £35 per year!
Topics planned for the March 2019 issue include:
Delivery room cuddles for preterm babies
Each Baby Counts: progress report
Comparing international survival rates of preterm infants
Red hat pathway for reducing avoidable admissions for hypoglycaemia
The Great North Neonatal Biobank: a resource to facilitate translational research
BadgerNet admission data entry: a QI project
The BAPM framework for optimal arrangements for LNUs and SCBUs