Welcome to Infant's monthly email bulletin, in which we report the current news about neonatal units, developments in neonatal care, innovative products and latest research for healthcare professionals caring for premature babies and sick infants up to one year old.
You can view this news bulletin in your web browser.
Why not send your unit, research, event, product or company news for our next issue, to Katherine Robinson.
December 31, 2019

Transitional care service keeps babies and families together at Forth Valley

More parents with babies who would previously have been admitted to the neonatal unit at Forth Valley Royal Hospital can avoid being separated thanks to the introduction of a new service that aims to keep parents and babies together. The service has also led to a 20% reduction in the number of babies who require admittance to the neonatal unit.

The transitional care service, set up following the launch of the Scottish Government's Best Start Maternity and Neonatal Strategy, has been operating for a year at Forth Valley, and according to NHS Forth Valley Department Manager and Senior Midwife Kirsty MacInnes, feedback from parents has been very encouraging.

Full story

The Equipment category in our Supplier Guide is sponsored by Lisclare




December 31, 2019

Baby Friendly award for Daisy Hill Hospital and Newry & Mourne locality

Daisy Hill Hospital and Newry & Mourne locality are celebrating achieving reaccreditation with the prestigious Unicef Baby Friendly award.

The award is given to hospitals who are deemed to have best practice standards in place to strengthen mother-baby relationships and to support mothers who chose to breastfeed.

Full story

Looking for new suppliers? Categories in our Supplier Guide are: Circulation, Diagnostics, Equipment, Incubation, Monitoring, Nutrition, Respiration, Services, Supplies, Therapy and Transport

December 31, 2019

Baby units receive donation from antiques society

The special care baby units at Furness General Hospital and the Royal Lancaster Infirmary have received a generous donation of £250 from Cartmel Antiques Society. The grandson of one of the society's members was a patient on both units earlier this year.

The funds were presented to Bay Hospitals Charity, a registered charity that raises money to help improve patient care and the hospital experience at University Hospitals of Morecambe Bay NHS Foundation Trust.

Full story

December 31, 2019

NNAP report highlights issues with staffing levels on neonatal units

The National Neonatal Audit Programme (NNAP) has published its annual report 2019 on 2018 data. The report highlights the key findings and recommendations from the analysis of the data provided by neonatal units on the admissions of babies for neonatal care in England, Scotland and Wales in 2018.

For the first time, the report measured staffing levels at neonatal units and found that just 64% of shifts are staffed according to national guidelines and only 44% of all nursing shifts have sufficient specialist staff to care for the babies present.

Full story

December 31, 2019

Lullaby Trust unveils Wings of Love masterpiece

In 2019 The Lullaby Trust launched the Wings of Love project to commemorate all the babies and young children who have died in the UK.

During eight free family days for bereaved families, participants were asked to sit down and create origami butterflies, hearts and birds in memory of their loved one.

Full story

December 31, 2019

NHS England publishes neonatal transformation review report

NHS England and NHS Improvement have published a report Implementing the Recommendations of the Neonatal Critical Care Transformation Review. This action plan to implement the recommendations of the Neonatal Critical Care Transformation Review sets out how the NHS will further improve neonatal care with the support of funding set out in the NHS Long Term Plan.

The Neonatal Critical Care Review, commissioned by NHS England, was set up in response to the Better Births report in 2016, which recommended a dedicated review of neonatal services. This report sets out the actions required by the local and regional NHS to improve the care of babies and enhance the experience of families.

Full story

December 31, 2019

Charities issue joint statement on supporting and protecting breastfeeding

A group of charities has appealed to the new government to prioritise the first 1,001 days of a child's life.

The statement calls on the elected parties to commit to the following actions:

Full story

December 31, 2019

MBRRACE-UK publishes Saving Lives report

MBRRACE-UK has published its report MBRRACE-UK: Saving Lives Improving Mothers' Care. This report covers the lessons learned to inform maternity care from the UK and Ireland Confidential Enquiries into Maternal Deaths and Morbidity 2015-17.

The findings of the report include higher maternal mortality rates among women living in more deprived areas, higher maternal mortality rates among older women and continuing disparities in maternal mortality between different population groups.

Full story

December 31, 2019

Twins Trust backs petition for more support for multiple birth families in Scotland

A charity in Scotland supporting twins, triplets and more has encouraged the Scottish Government to lead the way by providing better support for multiple birth families.

Twins Trust is supporting Glasgow south side mum Jennifer Edmonstone with her petition to secure more support for families with twins, triplets or more, which includes both financial and non-financial elements.

Full story

December 31, 2019

Ameda Penguin nutritional warmer available from Central Medical Supplies

Ameda has launched the Penguin nutritional warmer, which is available in the UK exclusively from Central Medical Supplies.

Leveraging the thermal transfer properties of water, the Penguin is designed to offer safer, faster and more consistent warming. Temperature feedback technology ensures the safe and consistent warming of each feed; with every feed delivered between 36°C-37°C, within the ideal human physiological temperature range.

Full story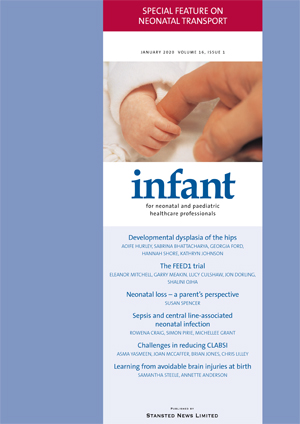 Articles in the January 2020 issue, available now, include:
Feature: neonatal transport
Developmental dysplasia of the hips
The Feed1 trial
Challenges in reducing CLABSI
Neonatal loss – a parent's perspective
Sepsis and central-line associated neonatal infection
Organ donation saves lives
Learning from avoidable brain injuries at birth
Improving bereavement care
Guidelines for managing babies who are accidently dropped in hospital
Subscriptions
start at just £35 per year!
Topics planned for the March 2020 issue include:
A short-term home nasogastric programme
Administering the hospital anxiety and depression scale
Non-pharmacological strategies for infant pain
Behavioural cues-based infant massage programme
Effective teamworking to improve patient safety
Relieving paternal stress in the NICU
Neonatal respiration: medical equipment and products