Welcome to Infant's monthly email bulletin, in which we report the current news about neonatal units, developments in neonatal care, innovative products and latest research for healthcare professionals caring for premature babies and sick infants up to one year old.
You can view this news bulletin in your web browser.
Why not send your unit, research, event, product or company news for our next issue, to Katherine Robinson.
December 4, 2019




The Golden Window wins national film award

A film about 'the golden window', a phrase used to refer to the crucial 72-hour period after birth when cooling the baby by three degrees Celsius can minimise long-term brain injury, has won a national film award.

Filmed in 2012, The Golden Window follows the progress of Baby J over 72 hours using innovative film and soundtrack to capture the experience from the baby's perspective. Including interviews with parents and staff, the 22-minute film captures the emotional journey of having a sick newborn infant on the NICU.

Full story

The Equipment category in our Supplier Guide is sponsored by Lisclare




December 4, 2019

BAPM publishes guidance on cot capacity

BAPM has published a document Calculating Unit Cot numbers and Nurse Staffing Establishment and Determining Cot Capacity which aims to help professionals determine optimal cot numbers and neonatal nurse staffing for individual units within a network and to facilitate decisions about admission when a unit is close to capacity.

It provides supplementary guidance to BAPM Framework for Practice - Service Standards for Hospitals Providing Neonatal Care. It should be used in conjunction with Safe, Sustainable and Productive Staffing, the recommendations of the Neonatal Review in England, and the recommendations of the Maternity and Neonatal Services Review in Scotland, as well as existing standards in each of the UK nations.

Full story

Looking for new suppliers? Categories in our Supplier Guide are: Circulation, Diagnostics, Equipment, Incubation, Monitoring, Nutrition, Respiration, Services, Supplies, Therapy and Transport

December 4, 2019

BAPM publishes framework on extreme preterm birth

BAPM has published the Framework for Practice on the Perinatal Management of Extreme Preterm Birth Before 27 Weeks of Gestation.

The purpose of this framework is to assist decision-making relating to perinatal care and preterm delivery at 26 weeks and six days of gestation or less in the UK.

Full story

December 4, 2019

ONS reports significant fall in the number of babies dying

Figures published by the Office for National Statistics (ONS) show that the number of babies who are stillborn or die within four weeks of birth in the UK has fallen to an average of 14 babies a day - that's 345 fewer baby deaths in 2018 than in 2017.

Commenting on the data, Chief Executive at Sands Clea Harmer says: "These figures reveal a welcome fall in the UK's stillbirth rate, following concerted efforts by organisations to drive government and NHS initiatives that save babies' lives. However, there is no room for complacency. The fact remains that 14 babies a day in the UK are stillborn or die within four weeks of birth.

Full story

December 4, 2019

Parents make donation to thank Daisy Hill Hospital in memory of baby James

Over £9,600 has been donated to the Southern Health and Social Care Trust and Sands (Stillbirth and Neonatal Death Charity) in memory of baby James William Hyland.

Darren and Roisin Hyland from Newry, Northern Ireland, raised the amazing total as a way of giving something back in memory of their son James, who they lost in September 2018.

Full story

December 4, 2019

Bliss and Pampers launch new home page to support parents at night

Parents of premature and sick babies will now get more tailored information to support them during the evenings and at night, following the launch of Bliss' new night-time home page on its website.

Sponsored by Pampers, the page has been developed so that it provides the information parents are most likely to need at night. It is the result of feedback from parents who reported that nights and evenings can be difficult, especially if they are separated from their baby, expressing milk throughout the night, trying to get their baby into a sleep routine at home or if they are struggling to sleep due to stress and worries.

Full story

December 4, 2019

Tunbridge Wells Hospital neonatal unit receives Bliss Baby Charter accreditation

Tunbridge Wells Hospital has become the fifth hospital in England to receive a prestigious award for their neonatal unit from the premature and sick baby charity Bliss.

Matron Julia Moat says: "The neonatal unit team is extremely proud of the fact that we have been awarded the Bliss Baby Charter accreditation. It is a huge achievement and acknowledges the hard work of the staff to ensure we always provide individualised care of the highest standard for our parents and their babies, placing the family at the centre of care."

Full story

December 4, 2019

Medela swings into first place at the 2019 Baby Awards

Medela's Swing Maxi Flex breast pump has been awarded Best Breastfeeding Product at the 2019 Baby Awards.

Readers of Baby magazine were encouraged to vote for their favourite brands and invited to have their say on what they think were the very best parenting products from 2019.

Full story

December 4, 2019

Bliss announces new study days for 2020

Bliss has announced the dates for two new study days taking place in 2020.

Following feedback from parents who reported that they found the process of being discharged from the neonatal unit challenging, these study days will focus on supporting parents going home. They will be taking place in Liverpool and London in February and April respectively.

Full story

December 4, 2019

Colief range gets a contemporary new look

Colief has launched a new design across its entire product range, introducing a fresher, more contemporary look for the brand, which will be available from autumn 2019.

Colief Infant Drops is the first product in the range to be rolled out with the newly updated design, to be followed by Breathe Easy Patches, Vitamin D3 Drops, and Baby Scalp Oil throughout the remainder of the year.

Full story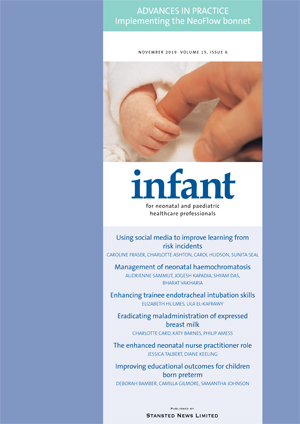 Articles in the November 2019 issue, available now, include:
Enhancing trainee endotracheal intubation skills
Using social media to improve learning from risk incidents
The enhanced neonatal nurse practitioner role
Prevention is better than cure: management of neonatal haemochromatosis
Maladministration of expressed breast milk
Tackling feelings of shame and guilt about feeding babies
Improving educational outcomes for children born preterm
Advances in Practice: Implementing the NeoFlow bonnet
Subscriptions
start at just £35 per year!
Topics planned for the January 2020 issue include:
Feature: neonatal transport
Developmental dysplasia of the hips
Behavioural cues-based infant massage programme
Challenges in reducing CLABSI
Sepsis and central-line associated neonatal infection
Organ donation saves lives
Administering the hospital anxiety and depression scale
A short-term home nasogastric programme
Learning from avoidable brain injuries at birth
The Feed1 trial