Welcome to Infant's monthly email bulletin, in which we report the current news about neonatal units, developments in neonatal care, innovative products and latest research for healthcare professionals caring for premature babies and sick infants up to one year old.
You can view this news bulletin in your web browser.
Why not send your unit, research, event, product or company news for our next issue, to Katherine Robinson.
June 6, 2018

Sands launches campaign to help everyone talk about baby loss

Sands, the stillborn and neonatal death charity, is calling on everyone in society to help break the wall of silence around baby loss through its Finding the Words campaign.

At the heart of the campaign is an animation showing a day in the life of a bereaved parent struggling to cope when no one is able to talk about the death of their baby.

Full story

The Transport category in our Supplier Guide is sponsored by ParAid




June 6, 2018

Portable cuddle cots help bereaved families in Hull

Families of babies who die before or just after birth will be given the chance to spend time with their children in their own homes.

Hull and East Yorkshire Hospitals NHS Trust is now offering parents portable cuddle cots if they wish to take their babies home before funerals.

Full story

The Respiration category in our Supplier Guide is sponsored by Solus Medical Limited




June 6, 2018

Nurses raise funds and awareness for kangaroo care

NICU staff at Southmead Hospital raised money for the hospital's charity by dressing as kangaroos to promote kangaroo care.

As part of International Kangaroo Care Awareness Day on 15 May, the team also hosted a cake sale and a 'kangaroo-care-athon' where parents on the unit were encouraged to hold their babies skin-to-skin. Each baby on the NICU was given a kangaroo book, mug and toy, funded by Southmead Hospital Charity, to promote the International Kangaroo Care Awareness initiative.

Full story

The Nutrition category in our Supplier Guide is sponsored by Baxter Healthcare Ltd




June 5, 2018

Unicef report analyses breastfeeding practices around the world

Breastfeeding: A Mother's Gift, for Every Child, a report from Unicef, shares new analysis on breastfeeding practices around the world and sets out key recommendations for governments, the private sector, civil society and communities in low, middle and high income countries to increase breastfeeding rates.

The report highlights breastfeeding as one of the most effective ways to protect maternal and child health and promote healthy growth and optimal development in early childhood. It suggests that improving breastfeeding rates around the world could save the lives of more than 820,000 children under age five every year, the majority under six months of age, and prevent 20,000 maternal deaths from breast cancer.

Full story

The Monitoring category in our Supplier Guide is sponsored by vCreate Neonatal




June 5, 2018

Northern Ireland MPs meet with Bliss to discuss pressure on neonatal services

Premature baby charities Bliss and TinyLife have met with MPs from Northern Ireland to discuss their role in supporting the case for urgent additional investment to ensure all neonatal units across Northern Ireland are safe.

The meeting follows the recent publication of the Bliss and TinyLife Northern Ireland baby report 2018 which found that neonatal services are under incredible pressure.

Full story

The category in our Supplier Guide is sponsored by Child Bereavement UK




June 4, 2018

Bliss wins Charity Governance award

Bliss, the charity for babies born premature or sick, has received the Embracing Digital award at this year's UK Charity Governance award ceremony.

Judges selected Bliss as an award winner after an online overhaul yielded great results for public engagement and income. Adopting a digital-first strategy has transformed the way the charity supports parents and data-informed digital marketing has helped 30 per cent more people access information online since the strategy was launched.

Full story

Looking for new suppliers? Categories in our Supplier Guide are: Circulation, Diagnostics, Equipment, Incubation, Monitoring, Nutrition, Respiration, Services, Supplies, Therapy and Transport

June 4, 2018




Report shows rise in number of school delay requests for premature children

The Department for Education has released a report following a survey of local authorities and parents about delaying admission to reception class for summer-born children. The report found that 15 per cent of children whose admission was delayed were born premature, which is more than double the rate of prematurity among the general population.

The report also found evidence of a postcode lottery, with local policy affecting the likelihood of a school admission delay request being accepted. Only 11 per cent of local authorities that responded to the survey accept all requests to delay primary school start, compared to 26 per cent that only accept requests if there is very strong evidence about why a delay is necessary. The report also found that fewer requests are received in areas with stricter policies while more requests are received in areas with a more flexible approach.

Full story

June 4, 2018

Charity cheque boosts funding for bereavement suite at Wishaw

A charity has raised a total of £15,000 to help NHS Lanarkshire create a special haven for bereaved parents who have lost a baby.

The Glasgow Sands stillbirth and neonatal death charity met staff to hand over the cheque, which will boost funding for a maternity bereavement suite set to open soon at University Hospital Wishaw.

Full story

June 1, 2018




WHO and Unicef issue guidance to promote breastfeeding worldwide

The World Health Organisation (WHO) and Unicef have issued new ten-step guidance to increase support for breastfeeding in health facilities that provide maternity and newborn services.

The Ten Steps to Successful Breastfeeding underpin the Baby-friendly Hospital Initiative, which both organisations launched in 1991. The practical guidance encourages new mothers to breastfeed and informs health workers how best to support breastfeeding.

Full story

June 1, 2018




QUiPP app predicts preterm birth to reduce unnecessary treatment

A new app that can help predict if a woman is going to give birth prematurely could reduce unnecessary treatment and hospital admissions.

Current guidelines advise treating all women 30 weeks pregnant and under who present symptoms of threatened preterm labour, even though many will not go on to deliver early.

Full story

00/00/00




Full story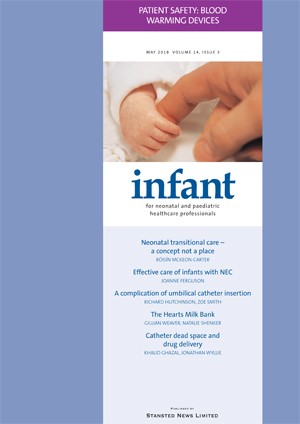 Articles in the May 2018 issue, available now, include:
Neonatal transitional care
Effective care of infants with NEC
Cather dead space and drug delivery
Blood warming devices for neonatal exchange transfusion
A forgotten complication of umbilical catheter insertion
The Hearts Milk Bank
Subscriptions
start at just £35 per year!
Topics planned for the July 2018 issue include:
Specialised milk feeds for term and preterm infants
An analysis of umbilical long-line extravasation injuries
Staphylococcal brain abscess in a premature infant
Do mothers understand the reasons for giving Vitamin K to newborn babies?
Fathers in the NICU - what type of support do they want?
Supporting breastfeeding in the NICU - the Brazilian approach