Welcome to Infant's monthly email bulletin, in which we report the current news about neonatal units, developments in neonatal care, innovative products and latest research for healthcare professionals caring for premature babies and sick infants up to one year old.
You can view this news bulletin in your web browser.
Why not send your unit, research, event, product or company news for our next issue, to Katherine Robinson.
November 5, 2019

Bereaved parents falling through the gaps in mental health care

More than eight out of ten NHS commissioners across the UK do not provide specialist therapies for parents who experience a psychiatric illness after pregnancy loss or the death of their baby, according to a report published by the Baby Loss Awareness Alliance.

'Out of Sight, Out of Mind: Bereaved parents falling through the gaps in mental health care' reveals that 60% of bereaved parents surveyed felt they needed specialist psychological support for their mental health, but were not able to access it on the NHS. And those bereaved parents who were able to get psychological support often had to attend clinics where they were surrounded by families with live babies.

Full story

The Equipment category in our Supplier Guide is sponsored by Lisclare




November 5, 2019

New Walsall neonatal unit set to open its doors

A new £5.6m neonatal unit at Walsall Manor Hospital will be up and running in just a few weeks' time, now that a major construction project has drawn to a close.

As part of the Walsall Healthcare NHS Trust investment the unit houses a purpose-built intensive therapy unit and high dependency unit, and a new obstetric theatre has also been created.

Full story

Looking for new suppliers? Categories in our Supplier Guide are: Circulation, Diagnostics, Equipment, Incubation, Monitoring, Nutrition, Respiration, Services, Supplies, Therapy and Transport

November 5, 2019




TAMBA changes name in a bid to reach more families

Twins Trust, formerly known as Tamba (the Twins and Multiple Births Association) has rebranded with a new name and website launched in celebration of its 40th anniversary.

The name Twins Trust was chosen to help the charity reach even more parents and maintain itself as the only charity in the UK offering support to families with twins, triplets or more.

Full story

November 5, 2019

Medela unveils its most advanced breast pump yet

Medela has launched the Freestyle Flex double electric breast pump, promising breastfeeding mums the ultimate in comfort, support and technology.

With smart connectivity, the Freestyle Flex works alongside the MyMedela app to support every mother's expressing journey. The app will automatically record the time and duration of each session so that mums can easily track their pumping patterns.

Full story

November 5, 2019

Maternity unit delivers with UNICEF baby friendly initiative

The maternity unit at Southend University Hospital has been re-accredited as baby friendly by UNICEF, following an assessment that showed that best practice standards are in place.

Infant Feeding Advisor at Southend Hospital Julie Newby says: "We want the best for parents and their babies, and working within the framework of Baby Friendly Initiative enhances the parents' experience. We are so proud of the staff on the maternity unit who have worked very hard to embed the UNICEF BFI standards in their practice and deliver excellent infant feeding care and advice to families in our area. We want to say a big thank you to all staff and parents who helped us achieve this award."

Full story

November 5, 2019

Social club supports baby unit

The neonatal unit at Southend University Hospital has received £27,230.31 from Ambleside Social Club over the last ten years.

The avid supporters of Southend Hospital have recently joined a new campaign to raise money to buy a cerebral function monitor, which will help detect seizures and improve outcomes for newborn babies.

Full story

November 5, 2019




Peterborough and Stamford MRI department take delivery of baby wrap and feed

North West Anglia NHS Foundation Trust has taken delivery of a new baby wrap and feed from Wolverson X-Ray. This device is one of many products designed by Pearl Technology for MRI and other busy imaging departments to improve image quality and patient comfort while saving costs.

MRI scans for newborn babies pose special challenges due to the difficulty of achieving safe and stable positioning. To meet the high demands of this procedure, the BabyFix Cocoon was developed in close collaboration with experts from the fields of neonatology, anaesthesia and paediatric radiology. The BabyFix Cocoon features a slim design and a separate head and body fixation, which enables the mother to continue breastfeeding, thus facilitating close contact between her and the child during preparation for the scan.

Full story

November 5, 2019

CMS launches heated gel mattress for Kanmed BabyWarmer

Central Medical Supplies has launched a new gel mattress with integrated heat pad, designed for use with the Kanmed BabyWarmer.

The heat pad is warmed to the selected temperature to replicate the mother's body heat and is an alternative to the water or foam mattresses that were are available for use in the Baby Warming System. It is suitable for infants from 1,000g.

Full story

November 5, 2019

Baby and infant loss consultancy provides training for professionals working with bereaved families

In response to a growing awareness of the importance of high quality support and care from professionals for parents who suffer the loss of an infant, a specialist consultancy has been launched offering training and support to professionals working with bereaved families.

Bereavement Training International (BTI) provides specialist training designed for all professionals providing care for parents when a baby or child dies, including midwives and student midwives, obstetricians, neonatal, paediatric and gynaecology staff, sonographers, GPs and other primary care providers, health visitors, counsellors and chaplains.

Full story

November 5, 2019

Hollywood team helps build resuscitation manikins

Clinicians have worked with some of Hollywood's top model makers to produce an infant teaching tool.

Royal Surrey County Hospital NHS Foundation Trust has worked with an Oscar-winning team at Elstree Film Studios to create two lifelike baby manikins – one preterm and one full term – that will be used in training and simulations.

Full story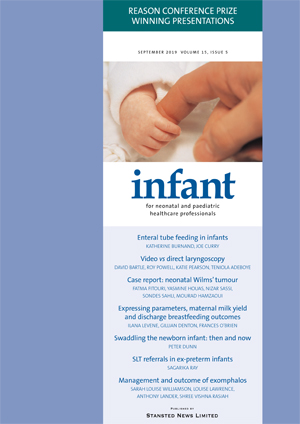 Articles in the September 2019 issue, available now, include:
Enteral tube feeding in infants
Swaddling the newborn infant
Video laryngoscopy vs direct laryngoscopy in neonates
Case report: Haemorrhagic shock revealing neonatal Wilms' tumour
Expressing parameters, maternal milk yield and discharge breastfeeding outcomes
Speech and language therapy referrals in children born preterm
Management and outcome for babies born with an exomphalos
Subscriptions
start at just £35 per year!
Topics planned for the November 2019 issue include:
Enhancing trainee endotracheal intubation skills
Developmental dysplasia of the hips
The enhanced neonatal nurse practitioner role
Prevention is better than cure: management of neonatal haemochromatosis
Using social media to improve learning from risk incidents
Maladministration of expressed breast milk
Tackling feelings of shame and guilt about feeding babies
The effects of an interactive behavioural cues-based infant massage programme
Improving educational outcomes for children born preterm