Welcome to Infant's monthly email bulletin, in which we report the current news about neonatal units, developments in neonatal care, innovative products and latest research for healthcare professionals caring for premature babies and sick infants up to one year old.
You can view this news bulletin in your web browser.
Why not send your unit, research, event, product or company news for our next issue, to Katherine Robinson.
March 3, 2020

RCM welcomes government investment in perinatal mental health support for women

The Royal College of Midwives (RCM) has welcomed the news that the new NHS GP contract will include additional funding for perinatal mental health checks at six to eight weeks.

RCM Chief Executive Gill Walton, says: "We are delighted that the Department of Health and Social Care has listened to the calls from the RCM for improved investment in maternal mental health care.

Full story

Looking for new suppliers? Categories in our Supplier Guide are: Circulation, Diagnostics, Equipment, Incubation, Monitoring, Nutrition, Respiration, Services, Supplies, Therapy and Transport

March 3, 2020

Vapotherm receives CE mark for oxygen assist module

Vapotherm has received the CE mark for its oxygen assist module (OAM) in the EU. The OAM integrates with Vapotherm's Precision Flow system and helps clinicians keep their patients within the target oxygen saturation range more effectively than with manual control alone.

Clinicians focus significant effort on maintaining blood oxygen saturation within prescribed ranges in order to address potential consequences. For example, more than 180,000 premature babies worldwide develop some degree of retinopathy of prematurity putting them at risk for visual impairment, including blindness, due to too much oxygen exposure.

Full story

March 3, 2020

Andrea Leadsom MP visits Sands following new parental bereavement leave and pay law

The Sands offices in London have welcomed Andrea Leadsom MP, the government's Business Secretary.

Andrea confirmed the government has passed legislation in the Parental Bereavement Leave and Pay Act, which means working parents whose child dies will have the statutory right to a minimum of two weeks' paid leave.

Full story

March 3, 2020




Big Breastfeeding Cafe returns for 2020

Fast becoming the largest annual breastfeeding celebration in the country, the Big Breastfeeding Cafe is back for 2020. The iconic event is set to connect thousands of families on 6 May.

Now in its fifth year, the national campaign is set to be the biggest yet. Led by Medela, the initiative will see a network of mini events taking place on the same day across the UK, encouraging mums and dads to chat and celebrate all things breastfeeding.

Full story

March 3, 2020

BAPM Awards renamed after Gopi Menon and now open for entries

From 2020 the BAPM Awards will be known as the BAPM Gopi Menon Awards in memory of BAPM's former President.

Gopi was a strong believer in quality improvement and celebrating the achievements of the whole perinatal team. He was integral to the development of these awards before his untimely death in 2019.

Full story

March 3, 2020

Glasgow families make memories with Inky Feet

Families of sick and premature babies are getting the chance to make special memories, thanks to a creative initiative funded by Glasgow Children's Hospital Charity at the Princess Royal Maternity Hospital (PRM).

The project has been developed by Trainee Neonatologist Dr Lorna McKerracher along with a passionate team of nursing staff at the PRM.

Full story

March 3, 2020

The Boy Who Lost His Burp raises £3,000 for hospital charity

A local author has written and illustrated a children's book which has sold 600 copies and, in the process, managed to raise £3,000 for the Doncaster and Bassetlaw Birth Appeal.

The Boy Who Lost His Burp tells the story of Charlie, a little boy with a great talent for burping, who suddenly finds himself in a jam when a very strange thing happens. Penned by graphic designer Mike Condon, the book is a way of saying 'thank you' to local clinicians for the care that he and his wife Kelly received when their daughter Willow was born premature last year.

Full story

March 3, 2020

'Toddle for Teddy' helps raise funds for The Royal Oldham's NICU

The family and friends of premature twins born at The Royal Oldham Hospital have helped raise vital funds for the neonatal unit.

The funds were raised by staff and students at Newman RC College in Chadderton while the family were in hospital following the birth of their premature twins Teddy and Tilly.

Full story

March 3, 2020

CMS introduces Wing Sling and Calming Cuddle Blanket

Two products produced by Small Beginnings are now available from Central Medical Supplies Ltd (CMS), the exclusive distributor of Small Beginnings products in the UK.

Wing Sling is an arm immobiliser that can help support the arm of a newborn with a broken clavicle that occurred during a difficult birth. It features soft padded brushed nylon and foam for the back of a baby's neck and flexible stretch netting to create a sling.

Full story

March 3, 2020

Cuddle cots support parents of stillborn babies

Two cuddle cots have been donated to the maternity ward at the Royal United Hospitals Bath NHS Trust, so parents can spend longer with babies that have been stillborn.

The cots are specially designed to keep stillborn babies cool, meaning that parents can spend more time with their babies in the hospital's Forget Me Not bereavement suite or take their babies home with them for up to three days if they wish to.

Full story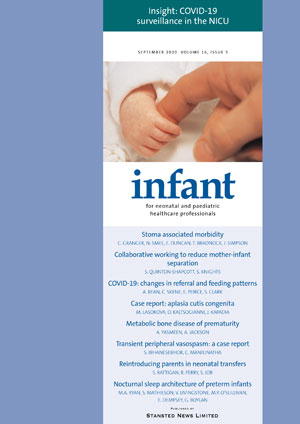 Articles in the September 2020 issue, available now, include:
Stoma associated complications in neonates following laparotomy
Collaborative working to reduce mother-infant separation and drug errors
Transient peripheral vasospasm in a preterm newborn
Nocturnal sleep architecture of preterm infants
Aplasia cutis congenita
Metabolic bone disease (osteopenia of prematurity)
Breastfeeding during COVID-19
A neonatal nutrition network for sub-Saharan Africa
Parents on neonatal transfers
Subscriptions
start at just £35 per year!
Topics planned for the November 2020 issue include:
Neonatologist performed echocardiography
Effects of massage on hyperbilirubinaemia, breastfeeding and growth
Nutritional intake of preterm babies
Staff health and wellbeing in the NICU
Supporting parents to read to their infants
A neonatal parent voice
Independent prescribing: an ANNP perspective
Exposure to noise during neonatal transport
Pain relief: a QI project
Product feature: resuscitation equipment