Welcome to Infant's monthly email bulletin, in which we report the current news about neonatal units, developments in neonatal care, innovative products and latest research for healthcare professionals caring for premature babies and sick infants up to one year old.
You can view this news bulletin in your web browser.
Why not send your unit, research, event, product or company news for our next issue, to Katherine Robinson.
September 22, 2018

AXifeed - The only truly tamper-evident EBM storage bottle range

*FEATURED PRODUCT ADVERTORIAL*

The AXifeed Expressed Breastmilk (EBM) storage bottle and cap range, from specialist neonatal supplier Central Medical Supplies Ltd (CMS), is the only truly tamper-evident system, providing clear verification that feeds are safeguarded from accidental or deliberate contamination.

Full story

The Transport category in our Supplier Guide is sponsored by ParAid




September 21, 2018

Innovative app launched to support bereaved parents, families and professionals in the UK

Sands, the stillbirth and neonatal death charity, has launched a bereavement support app, which it believes is the first of its kind, to enable bereaved parents and professionals to have information and resources at their fingertips.

The mobile app is aimed at bereaved parents, their family and friends, partners and grandparents, so they can access information at their convenience on their smartphone. It can also be used by healthcare professionals, employers and anyone who would like to know how best to support bereaved parents.

Full story

The Nutrition category in our Supplier Guide is sponsored by Baxter Healthcare Ltd




September 21, 2018

New bereavement suite opened at Northwick Park Hospital

Parents in London who have been given the devastating news that their baby has died will now have a peaceful and private place to spend precious extra time with their baby.

A bereavement suite was opened at Northwick Park Hospital, part of London North West University Healthcare NHS Trust, in Harrow on September 12.

Full story

Looking for new suppliers? Categories in our Supplier Guide are: Circulation, Diagnostics, Equipment, Incubation, Monitoring, Nutrition, Respiration, Services, Supplies, Therapy and Transport

September 21, 2018

Vygon launches innovative catheter for premature babies

Premistar, a new peripherally inserted central catheter (PICC) specifically designed for premature babies, has been launched by Vygon.

Created for the youngest and most vulnerable patients, Premistar is said to be the only antimicrobial impregnated 1Fr PICC designed for parenteral nutrition and the administration of medicine for preterm babies.

Full story

September 21, 2018

Cavell Star Award goes to Kettering special care baby unit

Kettering General Hospital's special care baby unit has won an award for its exceptional teamworking.

The unit, which employs 45 staff and looks after around 450 ill and premature babies each year, has won a Cavell Star Award after being nominated by student nurse Deborah Emerton. Deborah from Corby, who is just coming to the end of three years of nurse training, has spent the last two months working at the SCBU.

Full story

September 21, 2018

Babies breathe easier thanks to kind donation

A generous donation of £15,000 will help babies in the neonatal unit at Basingstoke and North Hampshire Hospital breathe a little easier as it has been invested in a new ventilator.

The neonatal unit, which admits on average 240 babies a year and cares for babies born from 27 weeks' gestation, has purchased an infant ventilator that can provide invasive and non-invasive ventilation depending on the needs of the patient.

Full story

September 20, 2018

SIGNEC meeting offers opportunity to discuss necrotising enterocolitis

Although necrotising enterocolitis (NEC) can be devastating, it remains relatively unknown outside of neonatal units. Among the organisations seeking to address this, the UK-based Special Interest Group for NEC (SIGNEC) is a multidisciplinary group of neonatal doctors and surgeons, nurses, dietitians, other healthcare professionals, parents and researchers that meet annually to discuss ways of highlighting the disease, sharing best practice and research.

Nigel Hall, Associate Professor of Paediatric Surgery at the University of Southampton, and Consultant Paediatric and Neonatal Surgeon at Southampton Children's Hospital, says: "Research into NEC is essential if we are to try to change the landscape in terms of improving prevention of NEC and learning how to treat the disease more effectively. Despite many advances in neonatal care over the past 20 years the incidence of NEC and the outcomes of NEC are things that really have not improved as much as they should. This highlights our lack of understanding about what precisely causes the condition and how to reliably determine when an infant has NEC. This latter point will be the focus of discussion and debate at the SIGNEC meeting.

Full story

September 20, 2018

Inspiration Healthcare introduces Transwarmer single use heated mattress

Inspiration Healthcare Limited can now distribute the Transwarmer heated mattress manufactured by Cooper Surgical Inc in the USA.

The device is single patient use, and functions when a metal disc is snapped inside a WarmGel filled mattress, creating a chemical reaction that causes the temperature of the device to reach 38°C within 90 seconds and remains so for up to two hours.

Full story

September 19, 2018

CMS offers free Gentleheel heel prick incisor trial

Specialist maternity products supplier Central Medical Supplies (CMS) is offering hospital trusts a free trial of the Gentleheel heel prick incisor.

Used for infant blood spot sampling, Gentleheel features a tri-bevel blade, designed to give a smoother, sharper and less traumatic incision. The unique cutting action provides a more consistent incision. Gentleheel comes with multiple visual indicators to reinforce the incision-site, permanent blade retraction to minimise possible injury or re-use and a hardened stainless steel blade to improve accuracy of the incision depth. The ergonomic design gives improved handling, while its welded plastic case prevents accidental exposure to the blade. The four sizes – Micro-Preemie, Preemie, Newborn and Toddler – are colour-coded for easy selection.

Full story

September 12, 2018

First Minister officially opens £18m North Wales neonatal unit

The new £18m neonatal intensive care unit for North Wales located at Ysbyty Glan Clwyd was officially opened by First Minister Carwyn Jones on 12 September.

The Sub Regional Neonatal Intensive Care Centre is a 20-cot unit that is part of the North Wales Neonatal Network, which links special care units in Wrexham and Bangor.

Full story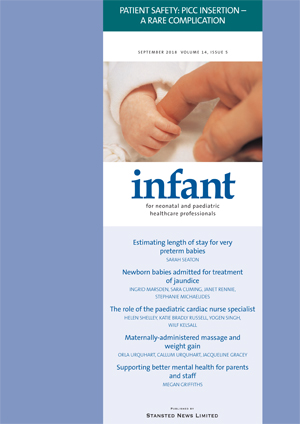 Articles in the September 2018 issue, available now, include:
Newborn infants admitted for the treatment of jaundice
Estimating length of stay for very preterm babies
Mental health support on the neonatal unit
Role of the cardiac nurse specialist
Maternally-administered massage and weight gain in preterm infants
PICC insertion: a rare complication
Subscriptions
start at just £35 per year!
Topics planned for the November 2018 issue include:
Optimising the delivery of parenteral nutrition in newborn care
An analysis of umbilical long-line extravasation injuries
Surfactant therapy – past, present and future
BadgerNet admission data entry: a QI project
Complications of ventriculo-peritoneal shunt placement
Hypoplastic left heart syndrome
The effects of prematurity on child development