Welcome to Infant's monthly email bulletin, in which we report the current news about neonatal units, developments in neonatal care, innovative products and latest research for healthcare professionals caring for premature babies and sick infants up to one year old.
You can view this news bulletin in your web browser.
Why not send your unit, research, event, product or company news for our next issue, to Katherine Robinson.
August 20, 2018

Chiesi supports Future of Neonatology Research Bursaries

The charity for babies born premature or sick Bliss has announced the availability of educational bursaries to support the dissemination of research into neonatology at the European Academy of Paediatric Societies (EAPS), 2018. These bursaries have been supported by the provision of funding from Chiesi Limited UK.

There will be ten educational bursaries of £500, which will be awarded to ten researchers to support attendance at EAPS to present their independent neonatal research. Applicants must have submitted, and have accepted, abstracts for poster and/or oral presentation at EAPS.

Full story

The Transport category in our Supplier Guide is sponsored by ParAid




August 16, 2018

Families at Worcester to benefit after local golf club donation

Families of babies born prematurely are set to benefit after a kind donation to Worcestershire Royal Hospital.

The NICU at the hospital received the £750 donation from the Bransford Golf Club after it was chosen as its charity of the year by club captain Peter Sheppard.

Full story

The Respiration category in our Supplier Guide is sponsored by Solus Medical Limited




August 16, 2018

NHS care bundle aimed at reducing stillbirths produces encouraging results

Maternity experts have given a cautious thumbs-up to best practice guidance on reducing stillbirths after a major independent evaluation found it probably helped to prevent baby deaths.

The evaluation of the Saving Babies' Lives Care Bundle (SBLCB) by the University of Manchester found a 20% reduction in the number of stillbirths at 19 'early adopter' trusts.

Full story

The Nutrition category in our Supplier Guide is sponsored by Baxter Healthcare Ltd




August 16, 2018

Tamba announces Maternity Engagement programme interim report findings

Tamba's Maternity Engagement programme, funded by a grant from The Department of Health innovation fund, aims to ensure mothers expecting twins, triplets or more, are treated in line with the National Institute for Health and Care Excellence (NICE) multiple pregnancy guidelines, as it is proven this could save lives.

The interim report shows if all maternity units performed the same as the best performing units in the group of 30 Tamba worked with, then 55 babies lives could be saved every year.

Full story

Looking for new suppliers? Categories in our Supplier Guide are: Circulation, Diagnostics, Equipment, Incubation, Monitoring, Nutrition, Respiration, Services, Supplies, Therapy and Transport

August 16, 2018




Parental Bereavement Bill progresses through Parliament

The Parental Bereavement (Leave and Pay) Bill has taken the final step towards becoming law. The third reading - the final chance for the Lords to change the Bill - took place on 24 July and no amendments were made.

As both houses have agreed on the text of the bill it now waits for the final stage of Royal Assent when the bill will become an Act of Parliament. A date for Royal Assent has yet to be set.

Full story

August 16, 2018

One in three parents choose Medela breast pumps

According to the leading independent consumer organisation Which?, more than a third of mothers chose a Medela breast pump, making it the most popular breast pump brand.

In a survey conducted by Which?, more than 1,000 mothers were asked which breast pump brand they either owned or had used most recently. With a 36% share, Medela came out on top against eight other brands, including Tommee Tippee (28%), Avent (16%) and Lansinoh (5%).

Full story

August 16, 2018

SunTech Medical launches CT50 vital signs monitor

SunTech Medical has launched the CT50 vital signs monitor, which continuously monitors blood pressure, non-invasive pulse oximetry and temperature measurements for neonates.

The touch-screen interface uses SunTech Advantage BP technology to automate the process of taking and averaging multiple blood pressure measurements, designed to improve the quality and precision and reduce 'white coat' response.

Full story

August 15, 2018

RCM comments on World Breastfeeding Week

World Breastfeeding Week was held on August 1-7 and this year the theme was 'foundation of life'.

The week focused on creating awareness of how breastfeeding helps prevent malnutrition in all its forms, ensures food security even in times of crisis and breaks the cycle of poverty.

Full story

August 15, 2018




Deadline approaching to apply for Churchill Fellowship

Time is running out for UK citizens to apply for overseas research grants to investigate new ideas for improving the work of the UK's nurses and allied health professionals.

Churchill Fellowships are travel grants that fund individuals to research innovative ideas and best practice overseas, then bring their global insights back to the UK and make change happen in their professions and communities. Fellowships are available in 12 fields of interest, including a special category devoted to 'Nursing & Allied Health Professions'.

Full story

August 10, 2018

Mystery donor gifts 300 Bliss bears to Salisbury District

An anonymous donor has given 300 teddy bears to Salisbury District Hospital to make sure that every baby born premature or sick will have their own first bear.

The donor, who lives locally, purchased the bears from Bliss to also contribute towards the charity's vital work, and says: "My family, friends and colleagues have witnessed the miracle of taking home a premature baby after weeks or months of nurture and care by amazing neonatal staff. Supported by charities like Bliss they have been better able to cope as a family with the ups and downs of the journey together.

Full story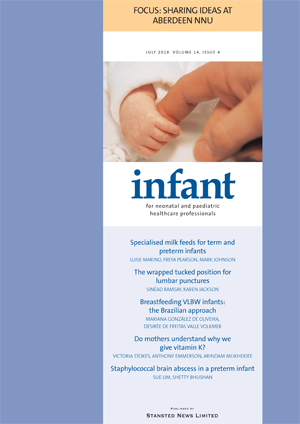 Articles in the July 2018 issue, available now, include:
Specialised milk feeds for term and preterm infants
Staphylococcal brain abscess in a premature infant
The wrapped tucked position for lumbar punctures
Do mothers understand the reasons for giving Vitamin K to newborn babies?
Fathers in the NICU - what type of support do they want?
Supporting breastfeeding in the NICU - the Brazilian approach
Subscriptions
start at just £35 per year!
Topics planned for the September 2018 issue include:
Newborn infants admitted for the treatment of jaundice
Optimising the delivery of parenteral nutrition in newborn care
Estimating length of stay for very preterm babies
Mental health support on the neonatal unit
Role of the cardiac nurse specialist
Maternally-administered massage and weight gain in preterm infants