Welcome to Infant's monthly email bulletin, in which we report the current news about neonatal units, developments in neonatal care, innovative products and latest research for healthcare professionals caring for premature babies and sick infants up to one year old.
You can view this news bulletin in your web browser.
Why not send your unit, research, event, product or company news for our next issue, to Katherine Robinson.
May 29, 2019

NHSI issues safety alert on dropped babies

NHS Improvement has issued a safety alert on 'The assessment and management of babies who are accidentally dropped in hospital.'

The alert is relevant to all organisations providing NHS-funded inpatient hospital care for babies aged under one year, including on labour wards, postnatal wards, midwifery-led units, paediatric and neonatal units, and mother and baby units in mental health trusts.

Full story

The Equipment category in our Supplier Guide is sponsored by Lisclare




May 29, 2019

Royal College of Pathologists issues guidelines on neonatal postmortem examinations

The Royal College of Pathologists has developed guidelines on neonatal postmortem examinations that provide practical technical advice to pathologists and minimum standards for autopsy reports.

It highlights the need to complete postmortem consent forms correctly and to provide sufficiently detailed clinical information to pathologists. Inclusion of pathologists at perinatal death reviews/meetings is also highly recommended.

Full story

Looking for new suppliers? Categories in our Supplier Guide are: Circulation, Diagnostics, Equipment, Incubation, Monitoring, Nutrition, Respiration, Services, Supplies, Therapy and Transport

May 29, 2019

Tamba backs programme that helps reduce the number of premature babies who develop cerebral palsy

Tamba has announced that it is backing PReCePT, a nationwide initiative helping to reduce the number of premature babies who develop cerebral palsy.

Every year more than 8,500 women in the UK give birth very early due to complications with their pregnancy. If women go into labour at less than 30 weeks there is an increased risk that their baby could develop cerebral palsy.

Full story

May 29, 2019

Inspiration Healthcare receives Queen's Award for Enterprise

Inspiration Healthcare Ltd has won the Queen's Award for Enterprise in recognition of the company's outstanding level of international trade.

The awards are the UK's most prestigious business awards. The international trade category recognises outstanding growth in overseas earnings and year-on-year growth in overseas sales over a six-year period.

Full story

May 29, 2019

RCM announces winner of its annual cake competition

A cake featuring a baby sleeping in a flower is the winner of the Royal College of Midwives (RCM) annual International Day of the Midwife cake competition.

The Great Midwifery Cake-Off 2019 challenged RCM members to design midwifery themed cakes. The cake with the most likes on the RCM Facebook site won the accolade along with a £250 gift voucher.

Full story

May 29, 2019

NICU Foundation and South West Neonatal Network launch new animation for parents of premature babies

The NICU Foundation says it has launched a first of its kind animation and partnership with the South West Neonatal Network with the aim of raising awareness and funds for the 12 neonatal units in the region, that reaches from Gloucester to Truro.

An event at Clevedon Hall in North Somerset welcomed doctors, nurses and consultants who were able to learn more about the new partnership and how the funds raised by the charity can support neonatal units across the region.

Full story

May 29, 2019

Luton Town Supporters Trust donates to L&D baby unit

Luton Town Supporters Trust has chosen the Luton and Dunstable University Hospital NICU's parents' accommodation as its charity of the year and kickstarted fundraising with a big event on World Prematurity Day.

Having raised £3,225 throughout the season, the trust invited the charity to the end of season presentation evening to receive these essential funds.

Full story

May 29, 2019

Study finds National Bereavement Care Pathway helps improve care received by parents

The results of an independent study into the recently launched National Bereavement Care Pathway (NBCP) have highlighted improvements in the way families experience bereavement care.

More than 1,000 healthcare professionals and 63 parents participated in the research which found that bereaved parents experienced high levels of satisfaction with the bereavement care they received after the loss of their baby.

Full story

May 29, 2019

Heads Together campaign launches Shout helpline

As a part of the Heads Together campaign, The Duke and Duchess of Cambridge and The Duke and Duchess of Sussex have announced the launch of Shout, a text messaging helpline that supports people in crisis. Campaign partner Best Beginnings now offers Baby Buddy Crisis Messenger in collaboration with Shout to support parents and parents-to-be if they are feeling overwhelmed and in a crisis.

Alison Baum, CEO and Founder of Best Beginnings, says: "We are delighted to have launched the Baby Buddy Crisis Messenger with Shout within our Baby Buddy app and on the Best Beginnings website. It enhances the support we already offer to parents via the app by giving parents immediate, confidential, clinically supervised text support from trained crisis volunteers."

Full story

May 29, 2019

Ashford and St Peter's Hospital launches new intensive care transport incubator system

St Peter's Hospital NICU has received a new transport incubator system for use by the Surrey Neonatal Transfer Service. The fully equipped mobile intensive care unit for infants was launched at the level 3 unit in March and has already made several journeys, including a trip to Swansea to bring a premature baby back home to Surrey.

The rig consists of a new ventilator, capable of delivering state-of-the-art modes of breathing support including synchronised volume targeted ventilation and high frequency oscillatory ventilation as well as non-invasive respiratory support modes such as humidified high flow nasal cannula and CPAP.

Full story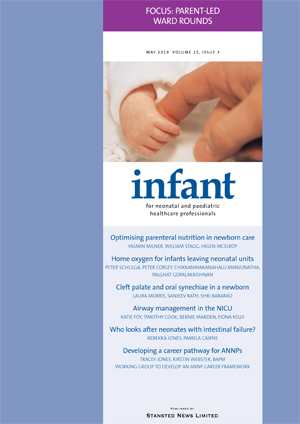 Articles in the May 2019 issue, available now, include:
Optimising the delivery of parenteral nutrition in newborn care
Airway management in the NICU
Cleft palate and oral synechiae in a newborn: a case report
Home oxygen for infants leaving neonatal units
A career pathway for ANNPs
Parent-led ward rounds
Conference report: Breastfeeding and Lactation Symposium
Who looks after neonates with intestinal failure?
Subscriptions
start at just £35 per year!
Topics planned for the July 2019 issue include:
Phototherapy at home for the treatment of neonatal jaundice
Refinement of the LISA procedure
An update on neonatal abstinence syndrome
Swaddling the newborn infant
Enhancing trainee endotracheal intubation skills on the NICU
A care bundle to reduce perinatal mortality
Enteral tube feeding in infants
Case report: a giant congenital melanocytic naevus
Case report: craniotabes secondary to vitamin D deficiency