Welcome to Infant's monthly email bulletin, in which we report the current news about neonatal units, developments in neonatal care, innovative products and latest research for healthcare professionals caring for premature babies and sick infants up to one year old.
You can view this news bulletin in your web browser.
Why not send your unit, research, event, product or company news for our next issue, to Katherine Robinson.
June 28, 2019

Lift the Baby campaign promotes safe sleeping

Players from London Irish Rugby Club have teamed up with health chiefs to launch a major video campaign aimed at cutting baby deaths.

Six members of the team have worked with NHS child safety staff from Berkshire on the video which was launched in London on 25 June.

Full story

The Equipment category in our Supplier Guide is sponsored by Lisclare




June 28, 2019

Kind quilters make cot covers for neonates

Patients on the NICU at the Noah's Ark Children's Hospital for Wales have received some beautiful incubator covers to help them have a more restful stay thanks to some generous members of the local community.

Parents are able to choose an incubator cover to use while they are on the unit. Although families become quite attached to their baby's cover, the quilts then usually stay in the unit, ready to help the next tiny patient.

Full story

Looking for new suppliers? Categories in our Supplier Guide are: Circulation, Diagnostics, Equipment, Incubation, Monitoring, Nutrition, Respiration, Services, Supplies, Therapy and Transport

June 28, 2019

Consultation opens on BAPM extreme preterm birth framework

A new BAPM framework for practice on 'Perinatal management of extreme preterm birth before 27 weeks of gestation' is currently open for consultation.

The purpose of this framework is to assist decision-making relating to perinatal care and preterm delivery at 26 weeks and six days of gestation or less in the UK.

Full story

June 28, 2019

Action Medical Research funds preterm birth resource for teachers

A new e-learning resource has been developed to improve educational support for children born preterm. Developed by Professor Samantha Johnson and colleagues it is aimed at education professionals to help them understand the needs of children born preterm.

It can be used to support neonatal follow-up for preterm born children, providing parents with information about potential long-term difficulties and teachers with strategies that can be used to support the learning of preterm born children at school.

Full story

June 28, 2019

Wrexham Maelor SCBU launches gift bags for mums

Nurses at Wrexham Maelor Hospital have launched a scheme to provide new parents with bags filled with useful items to make their hospital stay more comfortable.

The scheme is being funded by Wrexham charity Cherish, a support group for parents who have had babies who have been in need of care on the SCBU.

Full story

June 28, 2019

Families at Glan Clwyd Hospital benefit from new bereavement suite

A new suite to support families dealing with stillbirth and infant loss has opened at Glan Clwyd Hospital thanks to the generosity of a group of local families.

Fundraisers generated more than £30,000 with a 24-hour football marathon to improve facilities at the hospital and support stillbirth and neonatal death charity Sands.

Full story

June 28, 2019

Finding Your Way campaign helps men devastated by baby loss reach out for support

A survey by Sands has revealed that almost a third (31%) of men who had suffered the trauma of a baby dying were not referred to a helpline or other sources of support.

The charity is warning that when men don't get the right kind of emotional support after the death of a baby they may struggle to cope with their grief and this can lead to ongoing mental health issues including suicidal thoughts.

Full story

June 28, 2019

Leading baby loss charities call on Government to halve the rate of stillbirth and babies dying shortly after birth by 2025

The Office for National statistics has published new figures on the rate of stillbirth and babies dying shortly after birth.

Figures for England highlight that while the rate of stillbirths is reducing, there is still a long way to go to meet the Government's ambition to reduce this by 50% by 2025.

Full story

June 28, 2019

David Linden MP calls for extension of parental leave for parents of premature and sick babies

David Linden MP has brought forward a Private Member's Bill to extend parental leave for parents whose babies need neonatal care after they are born.

This follows a letter from Bliss, alongside other leading baby charities and MPs, to Minister Kelly Tolhurst expressing growing concern that the Government is backtracking on commitments to publish the findings of its review into parental leave provision for parents of premature, sick or multiples who need neonatal care.

Full story

June 28, 2019

Obstetric and neonatal facilities to be increased at Glangwili Hospital

A £17m contract to deliver the construction phase of the improvements at Glangwili Hospital, Carmarthen has been awarded to Interserve Group Limited, an international support services and construction group.

This follows the Welsh Government's £25.2 million investment into the obstetric and neonatal facilities at Hywel Dda University Health Board's Glangwili Hospital as part of its Design For Life Framework. Work is expected to start on the site in October.

Full story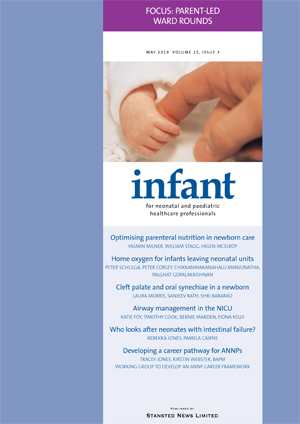 Articles in the May 2019 issue, available now, include:
Optimising the delivery of parenteral nutrition in newborn care
Airway management in the NICU
Cleft palate and oral synechiae in a newborn: a case report
Home oxygen for infants leaving neonatal units
A career pathway for ANNPs
Parent-led ward rounds
Conference report: Breastfeeding and Lactation Symposium
Who looks after neonates with intestinal failure?
Subscriptions
start at just £35 per year!
Topics planned for the July 2019 issue include:
Phototherapy at home for the treatment of neonatal jaundice
Refinement of the LISA procedure
An update on neonatal abstinence syndrome
A care bundle to reduce perinatal mortality
Enteral tube feeding in infants
Case report: craniotabes secondary to vitamin D deficiency
The structure and landscape of the ANNP workforce: a UK-wide survey