Welcome to Infant's monthly email bulletin, in which we report the current news about neonatal units, developments in neonatal care, innovative products and latest research for healthcare professionals caring for premature babies and sick infants up to one year old.
You can view this news bulletin in your web browser.
Why not send your unit, research, event, product or company news for our next issue, to Katherine Robinson.
April 6, 2018

Bereaved parents raise £30,000 for Portsmouth NICU

Robyn and Ryan Bendon's charity, Jesse's Dreams, has donated £30,000 to Portsmouth Hospitals NHS Trust's neonatal intensive care unit. The pair founded the charity after their son Jesse, who was was born at just under 24 weeks' gestation, unfortunately died. To raise this amount, they organised a two-day Wickham music festival, cake sales, a cabaret music night and auctions.

The funds will be used to buy a new incubator worth over £22k and breast milk warming machines costing more than £7k. The money will also purchase diaries and a roll of silk, as the premature babies lie on silk to prevent bed sores.

Full story

The Transport category in our Supplier Guide is sponsored by ParAid




April 6, 2018

Unicef re-accredits Great Western Hospital as baby friendly

The Great Western Hospital in Swindon has received full accreditation again from Unicef's Baby Friendly Initiative after a recent assessment.

Accreditation lasts for 18 months before it needs to be reassessed.

Full story

The Respiration category in our Supplier Guide is sponsored by Solus Medical Limited




April 1, 2018




Scottish parents to benefit from new neonatal fund

The first parents are set to benefit from a fund aimed at helping families of premature and sick newborn babies cope with the financial cost of their child being in hospital.

The £1.5m Neonatal Expenses Fund will be available from 1 April to all parents whose babies are receiving care in a neonatal unit. It was originally announced by the Scottish government in December, and was featured in a special report in the January issue of Infant.

Full story

The Nutrition category in our Supplier Guide is sponsored by Baxter Healthcare Ltd




March 28, 2018




Neonatal unit wins prestigious award

Royal Stoke University Hospital's neonatal unit has received the first Parents' Choice Award from Bliss, the charity for babies born premature or sick.

The hospital was nominated for the Bliss Neonatal Excellence Award by Kim Wheat whose baby Bonnie-Flo was born eight weeks premature weighing 1,503g. Kim believes the team deserves the award because they encouraged her and her partner to be fully involved in their daughter's care and provided clear instructions and communication.

Full story

Looking for new suppliers? Categories in our Supplier Guide are: Circulation, Diagnostics, Equipment, Incubation, Monitoring, Nutrition, Respiration, Services, Supplies, Therapy and Transport

March 28, 2018

Glasgow neonatal unit first in Scotland to achieve Unicef accreditation

The Princess Royal Maternity Hospital (PRMH) has become the first in Scotland to achieve Unicef UK Baby Friendly Initiative (BFI) status for its neonatal unit.

Anne Tainsh from Unicef joined staff and families at the unit to present the certificate confirming the award.

Full story

March 20, 2018

Charity-funded psychological support offered to parents of premature babies in Sheffield

Important psychological support for parents is being offered by a Sheffield neonatal unit, thanks to Sheffield Hospitals Charity donations.

Fundraisers have paid for two part-time psychologists to work alongside hospital health staff at the Jessop Wing's neonatal unit, enhancing the care on offer to parents.

Full story

March 20, 2018

SLE and the University of Tasmania announce licence of technology designed to reduce infant mortality

SLE Ltd and the University of Tasmania have announced that they have concluded a commercial licence that will see SLE begin incorporating the university's patented algorithm (using a closed-loop control for optimised oxygen concentration in the blood circulation of infants) into the SLE6000 neonatal ventilator.

Branded OxyGenie, the technology has been developed over the last nine years by a team of scientists led by Professor Peter Dargaville of the Tasmanian Health Service and Dr Tim Gale of the School of Engineering and ICT at the University of Tasmania and is now being integrated into the SLE6000 in collaboration with the SLE engineering department.

Full story

March 20, 2018




ONS publishes report on childhood mortality

The Office of National Statistics (ONS) has published its latest report on childhood mortality in England and Wales in 2016. It notes that neonatal deaths had increased to 2.7 per 1,000 live births, up from 2.6 per 1,000 in the previous year. Infant mortality also increased to 3.8 deaths per 1,000 live births, up from 3.7 in every 1,000 in 2015. Statistics on twin deaths in multiple birth babies for 2015 found that twins, triplets and more accounted for 14.4% of all neonatal deaths compared to 13.9% in 2014.

The main points of the report include:

Full story

March 20, 2018

UK first for Bradford Hospital's NICU

A dedicated Bradford neonatal team has been awarded a UK first for its inspiring work.

The neonatal intensive care unit based at Bradford Royal Infirmary, part of Bradford Teaching Hospitals NHS Foundation Trust, has become the first level 3 unit in the UK to achieve Baby Friendly Initiative accreditation, set up by Unicef and the World Health Organization.

Full story

March 20, 2018




Sands announces major boost to National Bereavement Care Pathway

Stillbirth and neonatal death charity Sands and its partners working on the National Bereavement Care Pathway (NBCP) for pregnancy and baby loss have announced that the pioneering project will be extended to a further 21 sites across England from April. These bring the total number of NHS trusts taking part to 32 – almost tripling the reach of the existing pilot.

The NBCP seeks to improve the overall quality of bereavement care and end the postcode lottery facing parents and families whose baby has died before, during or shortly after birth.

Full story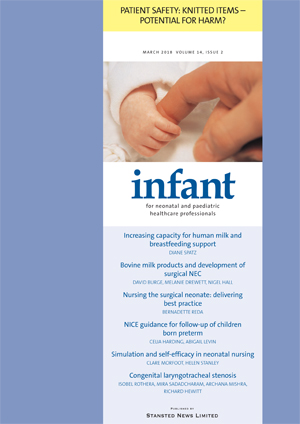 Articles in the March 2018 issue, available now, include:
Increasing capacity for human milk and breastfeeding support
Congenital laryngotracheal stenosis
Simulation and self-efficacy in neonatal nursing
Exposure to bovine milk products and development of surgical NEC
Nursing the surgical neonate: delivering best practice
NICE guidance for follow-up of children born preterm
Knitted items - potential for harm?
Subscriptions
start at just £35 per year!
Topics planned for the May 2018 issue include:
Specialised milk feeds for term and preterm infants
Neonatal transitional care
Cather dead space and drug delivery
Blood warming devices for neonatal exchange transfusion
A forgotten complication of umbilical catheter insertion
The Hearts Milk Bank