Welcome to Infant's monthly email bulletin, in which we report the current news about neonatal units, developments in neonatal care, innovative products and latest research for healthcare professionals caring for premature babies and sick infants up to one year old.
You can view this news bulletin in your web browser.
Why not send your unit, research, event, product or company news for our next issue, to Katherine Robinson.
September 30, 2019




Vygon launches Surfcath catheter

Vygon Group has introduced Surfcath, a catheter to be used for administering surfactant with the LISA method for preterm babies with respiratory distress syndrome.

The 20cm long, transparent, semi-rigid SurfCath catheter features a curved distal tip, improving manoeuvrability during the placement of the medical device, while eliminating the need for the commonly used Magill forceps. This is designed to ensure smoother application and lower risk of injuries in premature babies.

Full story

The Equipment category in our Supplier Guide is sponsored by Lisclare




September 30, 2019

Hallmark launches greetings cards for premature babies

Every year across the UK more than 95,000 babies require care within specialist neonatal units. That statistic from Bliss, combined with an inspiring personal story from Good Morning Britain's weather presenter Laura Tobin, caused Hallmark Greetings and Bliss to jump at the chance to work together to create a collection of cards with families like Laura's in mind.

"Our baby Charlotte was born extremely premature — three months early — and it was a very stressful time," explains Laura. "Friends and family want to offer support, but it's hard to know what to say."

Full story

Looking for new suppliers? Categories in our Supplier Guide are: Circulation, Diagnostics, Equipment, Incubation, Monitoring, Nutrition, Respiration, Services, Supplies, Therapy and Transport

September 30, 2019

Ten-week-old Sienna is first to graduate with BA(by) honours

Although she is too little to understand what the fuss is all about, 10-week-old Sienna Hartill is the first intensive care baby at Southend University Hospital to have a very special going-home graduation ceremony – complete with mini-graduation cap.

Graduation ceremonies on NICUs are popular in America, so the unit at Southend wanted to bring this idea to the UK.

Full story

September 30, 2019

Lullaby Trust encourages supporters to bake for babies

The Lullaby Trust is once again calling for supporters to fundraise for the charity by holding bake sales.

The Bake it for Babies campaign will run from 30 September to 6 October and TV presenter and Celebrity MasterChef winner Angellica Bell is once again backing the campaign and providing recipes for interested supporters to follow.

Full story

September 30, 2019

Tamba welcomes updated NICE guidance on safer multiple births

Tamba, the twins and multiple births association, welcomes the publication by NICE of updated guidelines for multiple birth pregnancies. Tamba contributed to the process and welcomes the updated version, which the charity believes will result in better birth experiences for mothers, and safer outcomes for babies.

Through its pioneering Maternity Engagement Project, Tamba will seek to ensure staff at units across England are supported in adopting the updated guidelines by providing direct support and advice.

Full story

September 30, 2019

Best Beginnings announces e-learning tool for health professionals

Best Beginnings and Health Education England are adapting the Small Wonders Change Programme for the purpose of professional development as an e-learning programme.

Annie Aloysius, Neonatal Speech and Language Therapist at Imperial College Healthcare Trust, is developing written content from the films, which will remain at the heart of the programme. It comprises five modules with a key learning objective in each and self assessment throughout.

Full story

September 30, 2019

Barbecue held to say thank you to local community that helped with NICU Big Build

Luton and Dunstable University Hospital's NICU Big Build is almost complete and a barbecue was held on 8 September to say thank you to all those who have helped with the project.

Launched in February, the NICU Big Build project sent out an appeal to local tradespeople to help renovate a three bedroom house to provide accommodation for parents whose babies are being cared for on the NICU.

Full story

September 30, 2019

Bolton hosts first maternity and neonatal conference

Staff from across Bolton's maternity and neonatal departments joined colleagues from across Greater Manchester at Bolton NHS Foundation Trust's first maternity and neonatal conference.

More than 100 people heard from a range of speakers about advances in technology and practice, progression towards continuity of care for pregnant women and their family (where a woman sees one small team of midwives throughout her pregnancy and beyond) and, most importantly, from parents themselves on their very personal experiences of care at Bolton and elsewhere.

Full story

September 30, 2019

Tommy's launches Tell Me Why campaign

A survey of 1,081 women who have lost a child during pregnancy or premature birth has found that 71% are not given a medical reason for why it happened. In the same survey 82% of parents said they blamed themselves and 77% felt guilty for what happened, even though for the vast majority their actions would not have changed the outcome.

The survey, conducted by national charity Tommy's, coincided with the launch on 9 September of Tell Me Why, a campaign calling for more funding into research into miscarriage, stillbirth and preterm birth. Tommy's believes that parents deserve to be told why their baby has died or has been born prematurely. As well as ending the cycle of self-blame and guilt, the charity believes that this will improve understanding of the biological processes at work and tackle the common myth that baby loss or preterm birth cannot be prevented.

Full story

September 30, 2019

Inspiration earns Queen's Award for Enterprise

Inspiration Healthcare Group was given the Queen's Award for Enterprise by Susan Pyper, Her Majesty's Lord Lieutenant of West Sussex, on 10 September in recognition of the company's outstanding level of international trade.

The awards are the UK's most prestigious business awards and the international trade category recognises outstanding growth in overseas earnings and year-on-year growth in overseas sales over a six-year period.

Full story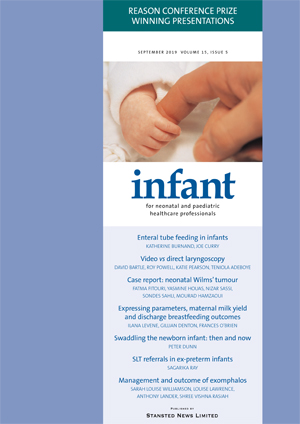 Articles in the September 2019 issue, available now, include:
Enteral tube feeding in infants
Swaddling the newborn infant
Video laryngoscopy vs direct laryngoscopy in neonates
Case report: Haemorrhagic shock revealing neonatal Wilms' tumour
Expressing parameters, maternal milk yield and discharge breastfeeding outcomes
Speech and language therapy referrals in children born preterm
Management and outcome for babies born with an exomphalos
Subscriptions
start at just £35 per year!
Topics planned for the November 2019 issue include:
Enhancing trainee endotracheal intubation skills
Developmental dysplasia of the hips
The enhanced neonatal nurse practitioner role
Prevention is better than cure: management of neonatal haemochromatosis
Using social media to improve learning from risk incidents
Maladministration of expressed breast milk
Tackling feelings of shame and guilt about feeding babies
The effects of an interactive behavioural cues-based infant massage programme
Improving educational outcomes for children born preterm